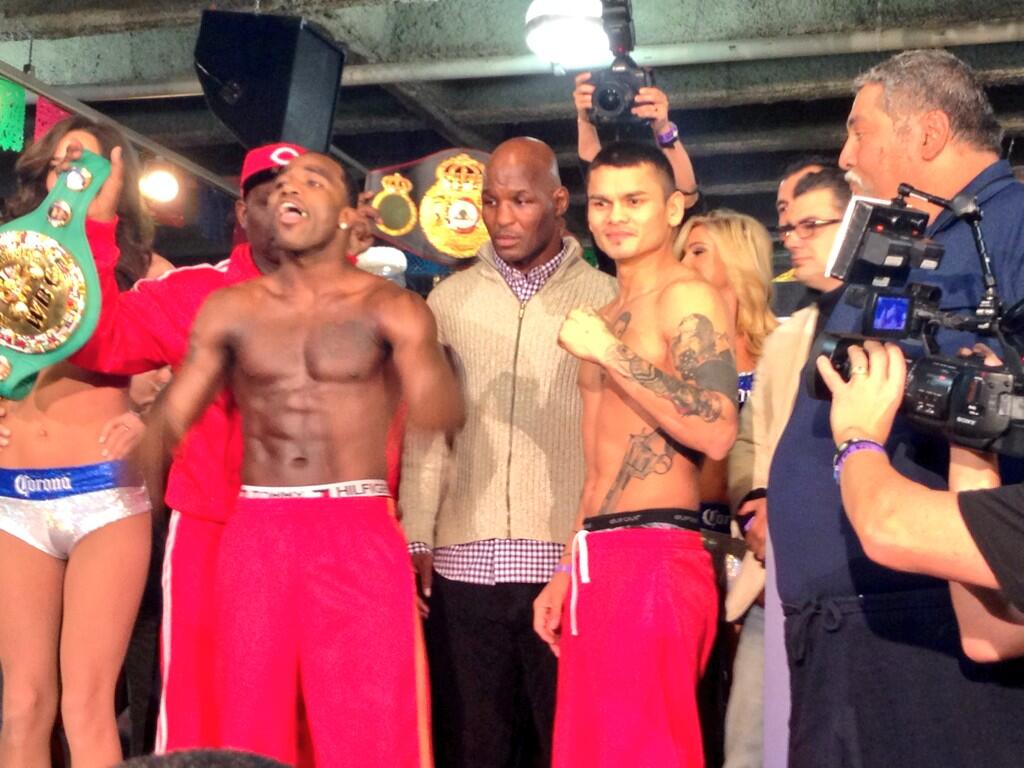 Weights from San Antonio: Adrien Broner vs. Marcos Maidana
The official weigh-ins for Saturday night's four-fight Showtime card from San Antonio, Texas, were held today.
Right here, you can find the complete Adrien Broner vs. Marcos Maidana weigh-in results, as well as the official fighter weights for everyone who's in action, including Keith Thurman vs. Jesus Soto-Karass, Leo Santa Cruz vs. Cesar Seda and Beibut Shumenov vs. Tamas Kovacs. We also have a great photo gallery of the weigh-ins as well. Take a look!
Broner vs. Maidana Weigh-in Photos
Broner vs. Maidana Weights
Adrien Broner: 144.4 lbs
Marcos Maidana: 146.2 lbs
Broner comes in very light for this fight. As you could expect, there were some hijinks going on between Broner and Maidana at the weigh-in. Broner got close to Maidana while he was on the scales, and Maidana shoved him off. Broner kept on hopping around and shadowboxing, very hyped up.
In the stare down, Broner was talking and talking, while Maidana just had a sort of bemused smile on his face. There's no psyching out "El Chino", that's for sure, but Broner was definitely trying to get into his head.
Keith Thurman: 145.8 lbs
Jesus Soto-Karass: 146.2 lbs
Thurman and Soto-Karass had a pretty intense stare down, with Thurman doing lots of yapping and jawing at Soto-Karass, with a crazy look in his eyes. It was also interesting to see the height advantage that Soto-Karass had on "One Time".
Leo Santa Cruz: 121.4 lbs
Cesar Seda: 121.6 lbs
Beibut Shumenov: 175 lbs
Tamas Kovacs: 174.4 lbs
—-
Be sure to stop back in with us on Saturday night for our full coverage of the entire card, the aftermath and live updates all night long, and thanks for checking out our Broner vs. Maidana weigh-in results!