The Suffolk County (New York) Correctional Officers (SCCOA) Boxing Team has the support of two-time world champion James "Buddy" McGirt and former world heavyweight title challenger "Gentleman" Gerry Cooney in the fifth annual Battle of the Badges (BOB5), featuring amateur boxing matches against the Massachusetts Correctional Officer Boxing Team (MCO), on Saturday night, May 18, in Fox Theater at Foxwoods Resort Casino in Mashantucket, Connecticut.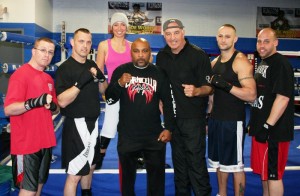 TEAM SCCOA: (L-R) Trainer Keith Youngs, Larry Wojitak, Danielle Brouard, Buddy McGirt, Gerry Cooney, Alex Mylett and Will Faller. (Photo by James Milowski)
"BOB5" is presented by National Public Safety Athletic League ("NPSAL") in association with MCO, SCCOA, and Foxwoods Resort Casino. Defending champion NY leads in this amateur boxing series, 3-1.
Proceeds from the May 18th charitable event will benefit Work Vessels For Veterans and NPSAL. More than a dozen matches are scheduled between amateur boxers representing Team MCO and Team SCCOA.
Team SCCOA recently worked out at McGirt's new gym, "McGirt's Training Facility," in Nutley, New Jersey. McGirt and Cooney worked with the SCCOA boxers. McGirt (73-6-1, 48 KOs) was a professional boxer from 1982 to 1997, capturing world titles in the welterweight and light welterweight divisions. Cooney (28-3, 24 KOs) fought as a professional between 1977 and 1990, earning a world heavyweight title shot against Larry Holmes. McGirt, Cooney and former New York Islanders Benoit Houge will be special guests of Team SCOAA at the May 18th event.
Team SCOAA is trained by Keith Youngs, a former world kick-boxing champion, who has been training pro and amateur boxers for the past 17 years. One of the SCOAA boxers to watch is heavyweight Alex Mylet, who is making his amateur boxing debut on the May 18th show. Boxing flows in his blood. His grandfather once fought world heavyweight champion Primo Carnera.
Danielle Brouard (0-1) is scheduled to face Mass. boxer Ashleigh Moore (3-1) in a 125-pound open match. Brouard has been a Suffolk County Correctional Officer since 2004 and she is one of only two female to achieve a position on the Sheriff's Emergency Response Team (SERT), a corrections equivalent to SWAT.
Reserved tickets are on sale priced at $30.00, $50.00, $75.00 and $100.00 (VIP includes after-party) and are available to purchase at the Foxwoods Box Office, on line at www.foxwoods.com or www.Ticketmaster.com, by calling 1-855-660-6606 X03, 1-800.200.2882, or at any Ticketmaster outlet.
The official after-party will be hosted by Comix. Live entertainment will be provided by Louie Bello, starting at approximately 10:00 p.m. ET. The after-party is open to the general public for $15.00 ($10.00 with fight ticket stub).
A special hotel room rate (single or double rooms only) is available at MGM Grand at Foxwoods by calling 1.800.442.1000 and using group code: M16002, or by going on line at https://resweb.passkey.com/go/battleofbadges0513.
Doors open at 6:30 p.m. ET with the first match scheduled to start at 7:30 p.m. ET.