Upon arriving to his hometown of Tijuana, Mexico, previously undefeated Juan Carlos Burgos (25-1, 18 KOs) reflected on his recent defeat in Nagoya, Japan, when he faced legendary Hozumi Hasegawa (29-3, 11 KOs) for the vacant WBC Featherweight title. After 12 brutal non-stop rounds, Burgos lost the fight on all three judges scorecards 117-111 (twice), and 116-111.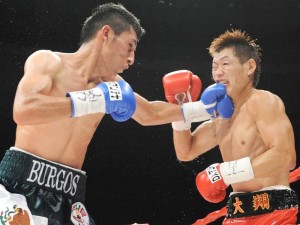 "I told all the reporters in Japan that I had no excuses, I fought a rough Japanese opponent that did the same as me, he gave it his all. I won't take that away from him, he had a better night and his hand was raised at the end. But I disagree with a few things that happened during the fight; for one, I got a point deducted on the eighth round for a supposed unintentional head butt. Referee Roberto Ramirez Jr., saw it as a butt but it was a punch, a clean punch, that cut Hasegawa's eye."
"Since my arrival I watched the fight 3 times, I can't see the head butt on the eigth round.  We both clashed heads on a previous frame but the referee did not see  that one, nor did he say anything."
The Japanese Boxing Commission (JBC) abides by the WBC rules of open scoring during title fights and after the 4th and 8th Burgos found himself at a disadvantage on all three cards.
"I knew I had to knock him out to get the win in Japan, I tried my hardest to do it, even after my eye was swollen shut from the 9th round on, but Hasegawa is one tough champion. After reviewing the fight with my team I never saw myself losing the first 3 rounds but I'm a fighter not a judge, I will do better next time."
Burgos backed Hasegawa up, who in turn boxed his way out of the fight displaying his ring savvy and experience.
"I'm a young boxer, I will bounce back from this and I hope I can get a new opportunity soon. The story could have been written differently if some minor things turned up my way. For the time being I will take this experience and make the best of it. I will be back and I want to be a world champion more than ever."