One of the intriguing fights on the Pacquiao vs. Marquez 3 undercard is that between Juan Carlos Burgos and Luis Cruz. This is a tough to call fight between Burgos, the more experienced of the two, who has only one loss in his career and that coming to Hozumi Hasegawa; and Cruz, an undefeated and high-rising prospect who many believe has the potential to be a future star in the sport.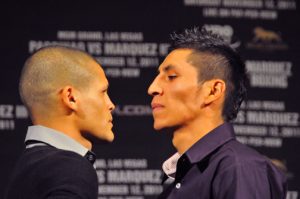 The undercard press conference for the PPV was held on Thursday, and Burgos and Cruz got to meet face-to-face and square off with one another.
Battling it out for their native lands, Juan Carlos Burgos (27-1, 19 KOs) of Tijuana, Mexico and  Puerto Rican Luis Cruz (19-0, 15 KOs) are set to trade leather this Saturday, November 12 in a ten-round super featherweight battle  for the WBO/NABO title as the HBO Pay-Per-View televised opener of the highly anticipated Pacquiao vs. Marquez trilogy.
Earlier today the two went face-to-face and Burgos made one clear statement, "Expect a battle out there.  I am going to do what I  have to do to win.  I am not taking any chances so I am going to come out fighting as soon as the first bell rings."