The upcoming Ricky Burns vs. Kevin Mitchell lightweight bout seems to have been on the roadmap for quite some time. However, for one reason or another it hasn't come into fruition until now.  Having grown into his champion's status, Burns has shown consistency and epitomizes what hard work and determination can do for a fighter on the cusp.  In the other corner, you have the "Dagenham Destroyer", who was on a world championship tilt until those plans were derailed by the dangerous Michael Katsidis.
Having put that fight to rest, we now have a legitimate title challenger in Mitchell who has seen off John Murray and Felix Lora to earn a crack at Burns's belt.  So, as we approach this great domestic fight let's take a look at the 5 keys for victory for each combatant.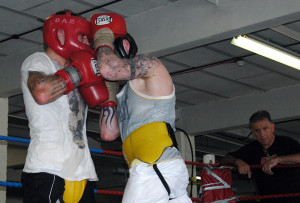 5 Keys to victory for Ricky Burns
Reach – Burns is the taller of the two, and will go into the bout with a few inches of reach over Mitchell. Therefore, if he uses the jab effectively it could be key to controlling the center of the ring.
Work Rate – Ricky Burns is a busy fighter who can dictate the pace to most of his opponents.  Showcasing a solid jab, combination punches and good movement, he creates a high pace which has worked in his favor causing wear and tear on his opponents.
Body Punching – If there is one thing that might negate the inside game from Mitchell, it will be Burns's body work.  He proved against Katsidis that he has the ability to slow fighters down on the inside.
Stamina – One of his main assets going into this fight is that he is a seasoned 12 rounder.  A lot of his fights have gone the distance since he is not really a knock out artist.  This could be a deciding factor given the relative inactivity of Mitchell.
Crowd Support – This represents another homecoming for the Glaswegian and he hasn't let them down yet.  I expect the atmosphere will be electric and could well be the deciding factor that pushes Burns over the finish line.
5 Keys to victory for Kevin Mitchell
Power – It is no surprise that many people have Mitchell down as the puncher for this bout.  24 of his 33 wins have come  by KO and he has a real tendency to engage in tear-ups.  He would be advised to employ these tactics early on, as I believe the earlier stages of the fight favor Mitchell.
Boxing on the inside – Mitchell has good inside boxing ability and against a rangier puncher like Burns this could be a key to get some rounds in the bank and negate Burns's attack.
Ring IQ – As suggested, this may be a long night of boxing for both fighters, so Mitchell might have to show the same maturity and ring IQ as he did against the dangerous (but limited) Breidis Prescott.
Toughness – Aside from the Katsidis fight, Mitchell has shown toughness particularly in facing crowd adversity like he did against John Murray.  That was a tough fight for both fighters and Mitchell emerged as the winner in a thrilling encounter.  He will need that same grit facing Burns in his backyard.
Intensity – All in all, Mitchell will need to rise to the occasion here and show he has the hunger, heart and desire.  If he brings the intensity to overpower Burns then it just might be his night.
Verdic: Who Wins?
This is a close fight, ultimately though, I prefer the big game experience and consistency of Burns.  He has the strength, conditioning and technique to negate almost anything we have seen from Mitchell, although he will have to be wary of  his power for sure.  Mitchell has at times fallen short of his potential, so we'll have to wait and see if his head is right for this fight.
My prediction; Burns by UD in front of an adoring home crowd.
Comments
comments