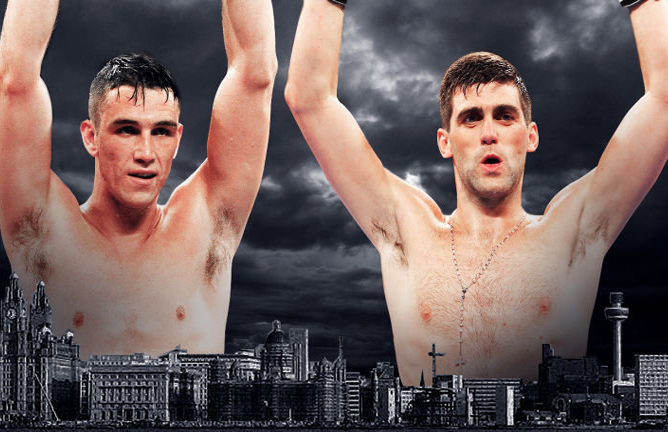 Prior to Timothy Bradley and Brandon Rios' intriguing clash of styles this Saturday night, an equally interesting duel will take place across the Atlantic in Liverpool, England, where Callum Smith and Rocky Fielding fight for local bragging rights.
Both Smith and Fielding hail from Merseyside. Both are also undefeated super middleweights and, with the divisional British title on the line, there is prestige as well as pride involved in this particular fight. Read on for a closer look at the fighters, a preview of the contest and a prediction of who will take the spoils.
Fight Details
When: Saturday, 7 November
Where: Echo Arena, Liverpool, England
TV Info: Sky Sports (UK)
Stream: SkyGo (UK)
Meet the Fighters
Callum Smith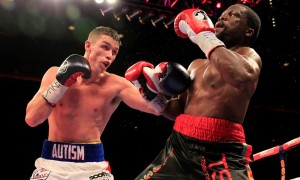 Record: 17-0 (12 KOs)
Age: 25
Height: 6'3"
Notable Wins: Christopher Rebrasse (UD12), Nikola Sjekloca (UD12)
Rocky Fielding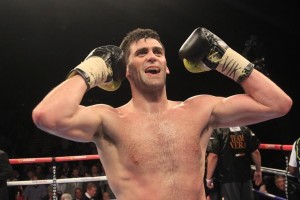 Record: 21-0 (12 KOs)
Age: 28
Height: 6'1"
Notable Wins: Charles Adamu (UD12), Brian Vera (TKO2)
Preview
Callum is the youngest member of the fighting Smith brothers and with victory this weekend he would join his three older siblings in winning a British title, making history in the process. Seen as a blue-chip prospect, he turned pro with Matchroom promotions after a strong amateur career and has ramped up his professional competition fairly quickly.
A first-round stoppage of the durable Patrick Mendy caused eyebrows to raise, before Smith outboxed decent European level opposition in Sjekloca and Rebrasse. As a result of his greater reputation and background, he goes into this weekend as the favourite.
Fielding had a much different route to this point. The 28-year-old began his career with little hype around his prospects and only really broke out with an opportunistic Prizefighter tournament in 2011. That night he stopped all three of his opponents within the scheduled three rounds though – given his inexperience at the time (going into the tournament his record was 3-0) – he was unable to immediately capitalise on the momentum as he continued his development at domestic level.
After winning the English and Commonwealth super middleweight titles, Fielding had difficulty making weight for a fight with the experienced Charles Adamu and struggled to a decision win. However since then he has only improved, rebounding from that uninspiring showing to pound out stoppage wins over respectable opposition such as Noe Gonzalez Alcoba and Brian Vera ahead of his signing to fight Smith.
Both Smith and Fielding are tall, lanky fighters with reasonable power, especially when an opponent catches the tail end of a punch from their long arms. But, while their knockout percentages are respectable, this is not where the fight will be won and lost.
Smith is the cleaner boxer of the two and puts his punches together with greater fluidity. There seems to be more of a plan to his offensive work and he can call upon a good repertoire of shots. He tends to fight with an upright stance and a high guard.
Fielding's style is less risk-averse and more open. He perhaps thinks less and throws more than Smith, though that does have its drawbacks. He usually opts to leave his lead left hand slightly lower towards his waist and flicks with the jab rather than driving it through the opponent's guard.
Prediction
The opening rounds may be jittery as the two fighters come to terms with both the occasion and one another. Smith, naturally the more composed of the two, will be the first to land clean and begin to make an impression.
As Fielding looks to make up for losing the opening stages, he will become less cautious and throw more leather in an attempt to beat the more accurate Smith with volume. However, when he does this, he will be met with return volleys.
By the mid-rounds Smith will be the clear aggressor of the two, coming forward and landing well with his left downstairs and combining that with his overhand right over the top of Fielding's low left hand. Fielding will continue to rally from the ropes but will find it hard to land cleanly through the bigger Smith's tight defence.
Gradually, Smith's punches will begin to take effect and take the steam out of Fielding, perhaps even slowly grinding him down to a stoppage in the later rounds.
Verdict: Smith TKO11