UK Boxing Roundup from the Weekend:
Saturday night saw crucial fights for some of the UK's best boxers. Northern Irish super bantamweight titlist Carl Frampton defended his belt against Chris Avalos while Chris Eubank Jr returned from defeat to Billy Joe Saunders against tough Russian, Dmitry Chudinov.
Tyson Fury rounded off the night by fighting Christian Hammer with his status as Wladimir Klitschko's mandatory at stake. The night would prove decisive in various ways.
Frampton defends in style
Chris Avalos was full of moxie upon his arrival on Northern Irish shores. His confidence was put under severe strain last night, however, as Carl Frampton beat him comprehensively to defend his alphabet belt.
Avalos started in surprisingly shy form, taking his time to assess Frampton in the opening stanza. By the second he was starting to fire up the engines, though, throwing wild hooks and pursuing the beltholder as the fight took on a frenetic pace.
With the Belfast crowd providing the atmosphere in the Odyssey Arena, Frampton provided the fireworks. Avalos, who had been warned for hitting on the break, strangely turned his back in the third, gesturing to his right arm.
Frampton took no mercy, launching an assault on the American, who earned no sympathy from the referee. There was no further indication that Avalos had hurt his arm as he gradually wilted amidst Frampton's accurate, stinging raids.
By the fifth Avalos was taking clean shots at a rate before unparallelled. As he lurched forward, Frampton caught him time and again with straight rights that caused him to think twice. Eventually, Avalos' knees began to sag, and after another right he stumbled, allowing referee Howard Foster to correctly call the stoppage at about the halfway point in the round.
The win and performance should entice ITV to televise Frampton again in future. If that alone didn't, the possibility of a megafight with Scott Quigg will. Quigg clambered up into the ring to talk with Frampton post-fight, and both seemed keen to get the fight on. One can only hope they keep their word.
Here's a bit of what Frampton had to say:
"I want to fight the big fights. I want to fight everyone at Super Bantamweight. I can see myself fighting Quigg this summer then I want to fight Rigondeaux. I see him as the man to beat at this weight class. Another guy is Leo Santa Cruz but I do not think he will fight anybody of note.

"I actually think Avalos is better than Quigg. He is dangerous, a better puncher, a better chin and he hits harder."
Fury marks time, Eubank makes a statement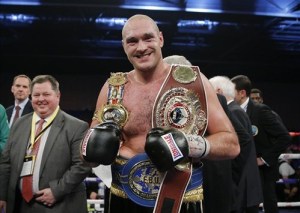 Tyson Fury fought to keep his status as mandatory challenger for one of Wladimir Klitschko's alphabet belts by taking on German-based Romanian, Christian Hammer at the O2 Arena in London.
The 26-year old behemoth retained that status with a one-sided beatdown of Hammer in a contest that never threatened to enthrall.
Fury spent much of the fight in a southpaw stance, pawing at the smaller man and catching him coming in with eye-catching uppercuts and straight lefts. The outcome was never in doubt; Hammer's best comprised of hopeful swings, through which he made little substantial headway.
After eight uneven rounds Hammer had had enough. He went to his corner shaking his head and didn't return. Fury got the win and can move on to bigger things.
On the undercard, Chris Eubank Jr fought Dmitry Chudinov, with an elevated position with one alphabet body's rankings at stake. The risk is that Eubank actually ends up in the position of being able to fight Gennady Golovkin. I say risk as, based on the evidence available, Golovkin is on another level to all other middleweights, not least Eubank.
To be fair, Eubank impressed in many aspects of his performance last night. His inside work, including lashing uppercuts and whipping hooks, was particularly good. The problem is we have seen this all before.
Chudinov, game as he was, lacked technique and after the fifth round, he was pushing his shots. Eubank should have been able to make an easier night's work of this fight from thereon, but he is still hampered by technical faults. His jab seems to lack the requisite force, his footwork is average and his nonchalance and flashy punching only serve to mask those fundamental flaws.
Some may read this as harsh, but Eubank has a lot to live up to. He still has plenty to work upon, most of all the jab, before he can be considered a force at top level. Fortunately there is no rush. At 25 years old, he has time to mature — if he's not thrown to the lions in the division too swiftly.