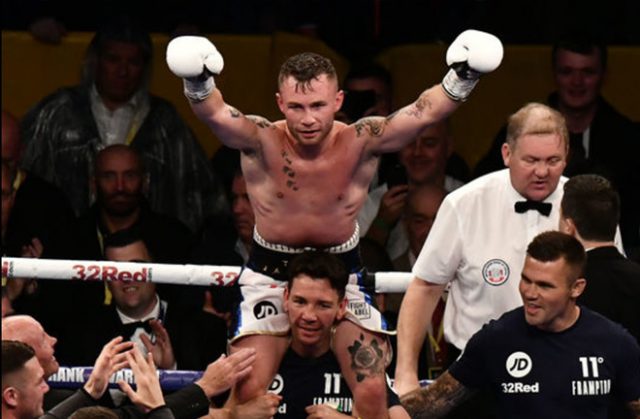 Saturday's offering at the BT Studio's is arguably their best to date, with several big names in action for Queensbury's latest Fight Night.
BT Sport televise in the UK, with Top Rank and ESPN picking up the rights Stateside.
Carl Frampton (27-2, KO15) will to return to action for the first time in 2020 as he gears towards a showdown with WBO Super-Featherweight champion Jamel Herring. 
Both men have had their share of bad luck in trying to meet, with Herring testing positive twice for signs of Coronavirus putting him out of his warm up title defence against Jonathan Oquendo. 
Frampton was due to face Vahram Vardanyan this weekend in Bethnal Green, but the Latvia based Romanian had numerous visa issues, ruling him out of the bout on just over a weeks' notice.
Thankfully a replacement opponent has been found, with Aberdeen's Darren Traynor (16-3, KO7) the man to step in and take Vardanyan's place. It's scheduled to be a ten rounder at Lightweight.
33-year-old Frampton is no stranger to bad luck in the past few years. It all began in July 2017, when Frampton was due to meet Andres Guttierez in Belfast in a WBC Featherweight title eliminator. 
Firstly, the Irishman came in a pound overweight, and couldn't shift it, meaning the fight was on, but without the eliminator status. 
Later that day though, Guttierez slipped in the shower in his hotel room and suffered multiple facial injuries, meaning the contest was cancelled. 
Just over two years later, in August 2019, Frampton was due to meet Emmanuel Dominguez, and days before their fight, Frampton fractured a hand when a large ornament landed on him in a hotel lobby.
None of these unfortunate incidents detract from the Tigers Bay native's achievements in the ring, for which there have been many in a just over eleven year professional career. 
'The Jackal' built his career the traditional way, with stints as Commonwealth and European champion at Super-Bantamweight including eye catching stoppage wins over Steve Molitor and Kiko Martinez. 
World honours were inevitable, and Frampton became IBF champion in September 2014 with a hard fought rematch points win against Martinez in Belfast. 
Two defences later, he unified with a split decision win against WBA (Super) champion, Scott Quigg, which signalled a move up in weight. 
His debut at Featherweight couldn't have been much trickier, as he took Leo Santa Cruz's WBA belt away with a gripping majority decision classic. 
The immediate rematch didn't disappoint either, this time though Santa Cruz turned the tables with a majority win of his own. Frampton returned from his first defeat by moving training and promotional teams, with an acrimonious split from the McGuigans a weight Carl had to bear. 
After joining forces with Frank Warren and employing Jamie Moore as head trainer, Carl began with three straight wins. 
First up was Horacio Garcia, where he had to get off the canvas before winning on the cards.
Nonito Donaire then followed in an entertaining points win, and finally, he returned to Windsor Park in Belfast to stop Luke Jackson in eight in August 2018. 
This set up a shot at Josh Warrington's IBF Featherweight belt, where Frampton started favourite to win.
The Leeds man had other ideas though, and turned in a determined performance to deny Carl on the scorecards. 
Due to his unfortunate meeting with an ornament, Frampton was sidelined for nearly a year, returning in November 2019 to rout Tyler McCreary on points in Las Vegas. 
He will hope to shake off the rust this weekend, and head towards a fight with Herring later this year.
One would assume that his assignment against Traynor will be at some sort of catchweight, as the Scot has been recently campaigning at Super-Lightweight.
'Trayn-Wreck' is a three-weight Scottish champion but, the 33-year-old usually comes unstuck when moving up the domestic chain.
His first defeat came in a British Featherweight title challenge in January 2016, stopped in five against Ryan Walsh.
Three wins later, he was stopped in three in a WBA International Super-Featherweight title tilt against the ruthless James Tennyson. 
Traynor rebounded by picking up the Scottish Super-Lightweight crown against Eddie Doyle in February 2018.
But, an assignment in Spain four months later saw him defeated for a third time, with Juli Giner taking an eight round points win. 
Darren was last seen in February this year, taking a shutout points win over six against Des Newton.
Prediction: Frampton will want to shake off the rust here, and may give himself some rounds to re-acclimatise before going in for the kill. 
Traynor will be there to make a big name for himself, but I can't make a case for him to win.
Frampton should turn up the heat around the fourth, and can remove Traynor from battle around the fifth.
Michael Conlan (13-0, KO7) is on the cusp of a World title shot himself, and he makes his first appearance of 2020.
Facing a former World title challenger in Frenchman Sofiane Takoucht (35-4-1, KO13). The fight is scheduled for ten rounds at Featherweight.
Conlan has been matched intelligently so far since turning over in March 2017 after his controversial loss to Vladimir Nikitin in the 2016 Olympics in Rio forced him to turn his back on the unpaid code. 
The Belfast man signed up with Bob Arum and Top Rank and made his debut at Madison Square Garden on St Patricks Day, stopping Tim Ibarra in three rounds. 
Conlan hasn't overly been extended in 13 fights so far, but has steadily been climbing the WBO rankings as their Intercontinental champion. 
Last time out, he avenged his Rio robbery, this time in New York, by routing old amateur foe Nikitin on the scorecards over ten rounds.
Takoucht is a former European champion, but is usually found wanting when he makes steps up the ladder. 
He was last seen challenging for the IBF Featherweight title in October last year.
However out of his depth the Frenchman was overwhelmed in Leeds by Josh Warrington, who dropped the Ardennes native twice before Takoucht was stopped when all at sea. 
The pick here is for Conlan to notch a stoppage around halfway.
Another man on the world title trail is Welling's Archie Sharp (18-0, KO9), who will be defending his WBO European Super Featherweight title against the tough Jeff Ofori (10-2-1, KO3).
Sharp has seen his stock steadily rise following an impressive October 2018 points win over Leicester's Lyon Woodstock, which earned him the title he defends on Saturday. 
Outscoring the tough Jordy McCorry in his first defence, and then arguably conceded the first four sessions before spectacularly knocking out Declan Geraghty in September last year. 
Most recently 'Sharpshooter' defended his title in December, a wide points win against Artjoms Ramlavs at the Copper Box. 
Jeff Ofori is game and comes to win, and is no stranger to causing an upset.
A former Southern Area Lightweight champion, Ofori shocked the previously undefeated Gerard Carroll over eight in November last year. 
One week later he got a call as a late replacement to enter the MTK Golden Contract tournament, and he advanced to the semi finals after a draw with Kieran Gething, where 'Jeffy' was announced as the winner due to the referee having the casting vote. 
He didn't disgrace himself in a sixth round stoppage loss to Ohara Davies in his semi final appearance back in February.
Ofori will boil down in weight to meet Sharp, and I favour the champion to retain on the cards.
There's talent aplenty on the rest of the card too. Troy Williamson (14-0-1, KO11) defends his IBF International Super Welterweight belt, in an intriguing looking contest with Derby's former English champion, Harry Scarff (8-1, KO1). 
Williamson has been patiently waiting for a big opportunity for some time, and Scarff should provide a decent test for him.
Harry was last seen in November 2019, losing a ten round decision to Anthony Fowler, his only career loss. 
He also holds a ten round points win over Jack Flatley in September last year.
A common foe whom Williamson knocked down twice but could only manage a draw with over eight in June 2018. Troy should be savvy enough to take this one on the cards.
Hot prospect Dennis McCann (6-0, KO4) appears in London, and Limerick Welterweight, Paddy Donovan (3-0, KO2) is also on the card.