IBF 122-pound champion Carl Frampton weighed-in at 121.7 pounds and WBA titlist Scott Quigg measured 121.6 pounds in front of a decidedly pro-Frampton crowd at Manchester Arena on Friday for their long-awaited super bantamweight unification this Saturday, Feb. 27, live on SHO EXTREME at 5:30 p.m. ET/PT. Right here, we have the full Frampton vs. Quigg weigh-in results, along with some photos and quotes from the event proceeding tomorrow's match.
Frampton vs. Quigg Weights:
Carl Frampton: 121.7 lbs
Scott Quigg: 121.6 lbs
Frampton vs. Quigg Tale of the Tape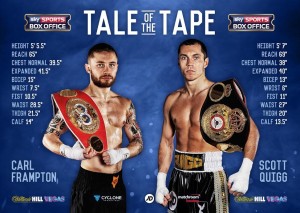 "I am better than him," said Frampton (21-0, 14 KOs), of Belfast, Ireland, who blew a kiss to his rival before breaking away from the stare-down. "I have the power to knock him out, from the first round to the last round, and I've also got the boxing brain to comprehensively beat him on points."
"I respect him as a fighter, but the best Carl Frampton can't touch the best Scott Quigg," said Quigg (32-0-2, 23 KOs), of Lancashire, United Kingdom.
Full Card Running Order & Info
4.00pm                 6 x 3 mins Super-Welterweight Contest
MARCUS MORRISON (11st 9lbs 4oz) v    ISTVAN KISS (11st 9lbs 1oz)
(Manchester)                                                    (Hungary)
4.30pm                 8 x 3 mins Middleweight Contest
CONRAD CUMMINGS                    v              VICTOR GARCIA
(Coalisand)                                                         (France)
5pm                       10 x 3 mins Vacant WBC International Silver Flyweight Championship
CHARLIE EDWARDS (7st 13lbs 6oz) v        LUKE WILTON (7st 13lbs 1oz)
(Epsom)                                                               (Belfast)
LIVE FLOAT         4 x 3 mins Light-Middleweight Contest
SCOTT FITZGERALD                         v              BEN HEAP
(Preston)                                                             (Swindon)
6.05pm                 12 x 3 mins Vacant British Light-Heavyweight Championship
HOSEA BURTON (12st 6lbs)          v             MILES SHINKWIN (12st 6lbs 8oz)
(Manchester)                                                    (Bushey)
Followed by
6 x 3 mins Super-Lightweight Contest
JOSH TAYLOR                                     v              LYES CHAIBI
(Edinburgh)                                                        (France)
Followed by
12 x 3 mins Vacant Commonwealth Featherweight Championship
MARCO McCULLOUGH (9st)       v              ISAAC LOWE (8st 12lbs 6oz)
(Belfast)                                                               (Morecambe)
Followed by
10 x 3 mins Vacant WBC International Bantamweight Championship
RYAN BURNETT (8st 5lbs 3oz)     v              ANTHONY SETTOUL (8st 6lbs)
(Belfast)                                                               (Clermont-Ferrand, France)
Followed by
12 x 3 mins Vacant WBC Silver & Eliminator Super-Bantamweight Championship
GAVIN McDONNELL (8st 9lbs 2oz) v         JORGE SANCHEZ (8st 9lbs 3oz)
(Doncaster)                                                        (Panama City)
Followed by
12 x 3 mins IBF & WBA World Super-Bantamweight Championship
CARL FRAMPTON (8st 9lbs 7oz) v              SCOTT QUIGG (8st 9lbs 6oz)
(Belfast)                                                               (Bury)
Comments
comments