Abraham vs. Froch Still not Settled
As the dispute over the venue for the Arthur Abraham vs. Carl Froch installment of the Super Six Tournament drag on, Carl Froch is revealing himself to be little more than an all-mouth bully. Gone is the boastful "Cobra" who called out Joe Calzaghe to fight him anytime, anywhere. Today's Carl Froch clearly doesn't think he can beat Abraham without a hometown advantage.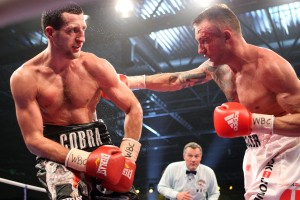 Let's have no misunderstandings here. Froch was beaten by Mikkel Kessler. Not edged in a close fight, but solidly defeated. The only person who claims that Froch won that fight is Froch, but deep down I don't think he believes it. That is why Froch keeps raising a fuss about venues. Froch needs to convince himself that he didn't really get thumped by Kessler, that instead Kessler won a rigged decision on his home ground in Denmark. Yet at the same time, Froch questions his ability to win without a hometown edge, as he must know he got the nod against Andre Dirrell only because that fight took place in Nottingham. This is why Ibizia or Monaco wasn't good enough, and then apparently Canada wasn't good enough either. If Froch can't get Nottingham, he wants a place right next door, namely Ireland. As Froch's mental gymnastics to convince himself he really is the best of the best become ever more convoluted, one has to wonder if he won't stick his tail in between his legs and bail out of the tournament altogether.
Thankfully, if Froch does go on to fight with Abraham, I think we can be certain that Froch will be out of the Super Six tournament. He needs a win over Abraham to continue, and as big a target as Froch is, I doubt he will survive a toe-to-toe encounter with the biggest puncher in the division. Froch is simply way too easy to hit.
Sadly, the only bad thing about Carl Froch is the man's own attitude. He has some real grit in the ring, and an entertaining style that maximizes action. A loss or two isn't the worst thing in the world for a fighter, so long as you put still butts in the seats. Look at the career of dear, departed (and probably murdered) Arturo Gatti. That guy lost as many big fights as he won, but he enjoyed a multi-million dollar career due largely to his warrior's ethic in the ring. The thing about being a warrior, though, is that you don't whine endlessly about being robbed when you weren't. Warriors also don't gripe for months about venues and threaten to leave a tournament that is the biggest thing in boxing that is actually in motion (Mayweather vs. Pacquiao being just an abstraction at the time of writing). You could actually like Carl Froch, if only "The Cobra" were more like the man he says he is.