Fight fans in the English Midlands can delight in cheering on their hero on November 17, as Carl Froch comes home to take on Yusaf Mack. Although some are deriding this as an "easy" fight, if anyone deserves a break from duking it out with top-tier boxers, that man is certainly Carl Froch. The match up might not pack world class drama, but it has some modest potential to go off-script, and should provide Froch's English fans with plenty to go home happy about.
Yusaf Mack (31-4-2, 17 KOs)
6'1″ tall, 75″ reach, 32 years old
American
Former US and North American light heavyweight champion
A veteran fighter from the Philadelphia school, Mack has good speed, good countering skills, good power, and plenty of determination. However, he has always lacked that extra something special that makes a world class fighter. His best win was last April's points victory over Omar Sheika, and he has sufficient stuff to get past the gatekeeper level of journeyman and pose a serious challenge to fringe contender-level fighters. However, Mack has been stopped in all of his forays against world class opponents, whether they were lower- or upper-tier: Alejandro Berrio, Librado Andrade, Glen Johnson and Tavoris Cloud.

Carl Froch (29-2, 21 KOs)
6'1″ tall, 75″ reach, 35 years old
Briton
Current IBF Super Middleweight Champion, former two-time WBC Super Middleweight Champion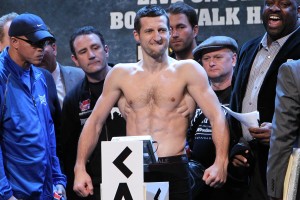 As a boxing super star and the sport's reigning ironman, Carl Froch needs little introduction, so I will focus on his boxing style. A strong, rugged and aggressive character, Froch carries his hands around his waist and relies on his speed and durability to keep him out of trouble. While Froch often prefers coming forward and pressing the action, he has shown sound boxing skills in the past, grounded on a first-rate jab and good movement. The Cobra is flexible, powerful, supremely tough, and usually fights from a relaxed, confident attitude.
Froch vs. Mack Analysis and Preview
Mack might just have the edge in hand speed, and that coupled with his solid counter-punching skills could potentially make him a trick opponent for Froch. If the Cobra comes forward, looking to bulldoze Mack, then the Mack Attack will go into full effect, exploiting Froch's porous point defense to land stinging counters.
The thing is that Mack isn't good enough to do that while avoiding all of Froch's artillery. He can score on Froch, and maybe even fluster him, but not completely neutralize him. Furthermore, if Froch decides he doesn't like where the go-forward approach is getting him, he can revert to boxing, and use his jab to open Mack up like a can of beans.
Since this is Froch's first "easy" fight since May 2008, I can easily see him trying to get Mack out of there from the opening bell. Unless he gets lucky and catches Mack with something very hard in the first 60 seconds, that is a mistake, and that mistake will make the first few rounds of this fight interesting. I can't see Froch just plodding on with only half-successful tactics, however, so I expect him to start sticking his jab as soon as he decides playing puncher isn't working. Behind his jab, Froch will blunt the Mack Attack, bust Mack up, and ultimately put him down.
Prediction: Carl Froch TKO5 Yusaf Mack