Luke Campbell says he will reap the rewards of his move to train in Miami as he bids to become Hull's first Commonwealth champion when he meets Gary Sykes for the vacant title at the Sheffield Arena on Saturday night.
Campbell teamed up with Cuban trainer Jorge Rubio following his loss to Yvan Mendy at The O2 in London in December, leaving his young family behind to train for months in the States as he looks to bounce back in style in the all-Yorkshire clash with Dewsbury's Sykes.
The Olympic hero can become the first fighter from Hull to win a Commonwealth belt and the 28 year old says that his Miami move will help him make history.
"Jorge's brought out a lot more skill, footwork and tactics – everything really," said Campbell. "We get on well, he's great with southpaws too.
"I've had a great camp and made a lot of changes. I've been coming out to Miami to see Jorge for the last year and a half but it has just been weeks here and there.
"This was the first real camp together and I'm really enjoying working with him and at that the same gym where my hero Muhammad Ali trained.
"It's not like you are going to see a new me on Saturday, but you will see a lot more of what I'm capable of. I'm not even scratching the surface and I've got a lot more to come and Jorge is bringing it out of me
"You have to live the life and invest in yourself. Boxing is not a job, it's a lifestyle, the way you prepare for each fight is vital. I don't prepare for Joe Bloggs, I prepare like I am going to war.
"I've had my ups and downs over the last year but that's life, you have to take everything that is thrown at you in your stride. There's no-one more committed to boxing than me, I'm away from my family and sacrificing spending time with them to train in Miami for seven weeks in a new environment and with a new coach, I'm sparring different training partners.
"I'm a family man and I live a simple life. I train, fight and spend time with my kids and my wife, there's nothing harder than being away from them."
Campbell's clash with Sykes is part of a huge night of action in the Steel City as Sheffield favourite Kell Brook defends his IBF World Welterweight title against Canada's Kevin Bizier.
Carl Froch Backs Saunders to Defeat Golovkin
British boxing great Carl Froch says WBO Middleweight titlist Billy Joe Saunders has the skills to take out Kazakh middleweight king Gennady Golovkin.
Froch, a four-time super-middleweight world champion, refuses to jump on the GGG bandwagon and has backed the undefeated Saunders to prove he is the world's true middleweight champion.
Speaking to The Sun, the retired super-middleweight supremo said: "I'm not putting Golovkin on this pedestal that everyone has him on. Who has he beaten that Billy Joe couldn't? His reputation is inflated. He's obviously a very good fighter and can punch very hard but he's a small middleweight,
"Beat somebody who is quality, beat him in style and I'll start talking about you like you're the next Sugar Ray Leonard or something."
Froch added: "When I watch Golovkin, I see him getting hit with shots. He walks through them to land his but he's wide open coming forward."
The Jimmy Tibbs trained Hatfield star, 23-0-0 12 KO's, makes the first defence of his world title against Golovkin's compatriot 'Mad' Max Bursak; a man who boasts wins over British Champion Nick Blackwell and Brian Vera.
Saunders has previously expressed his desire to take on Golovkin in a massive summer showdown at the Emirates or Wembley and is now even more determined to nail down a lucrative world title unification fight.
He said: "Since I've won the world title I've grown in confidence. Having a man of Carl Froch's experience backing me to win has given me even more of a boost. Carl Froch was one of the best fighters about so for him to say that is something. I already know in myself that I've got the beating of Golovkin with the right tactics."
Saunders Pulling for Blackwell to Knock Out Eubank
WBO Middleweight king Billy Joe Saunders will be appearing as a studio guest on Channel 5's live coverage of Chris Eubank Jr's showdown with British Champion Nick Blackwell this Saturday.
Saunders, 23-0-0 12 KO's, holds wins other both men and will be providing expert analysis on the evening's bout. The undefeated Hatfield star is hoping to witness Eubank Jr's second career loss.
"I can't say I'm too excited about seeing his ugly face. I'm going to be supporting Nick Blackwell and I hope he knocks Eubank out spark cold," said Saunders.
"Nick is probably one of the nicest blokes I've met in boxing. I've shared the ring with him and he's a tough fighter. He's a very respectful kid and you don't see him knocking out beginners in sparring," Saunders added.
Eubank passed up a shot at WBA world champion Daniel Jacobs in order to take on Blackwell, 25. The Brighton middleweight has completely written off Blackwell's chances and announced beating him would be for the good of British boxing; Saunders disagrees.
Saunders, who's preparing for the first defence of his WBO World Middleweight title against Max Bursak on Saturday 30th April at the Copper Box Arena, said: "The best result is for Nick to do his talking in the ring. He's got a very good chance of beating him. Eubank struggles at the weight and as we saw against Spike he was dying out and got hurt; he could be in trouble on Saturday,"
"If Blackwell can get himself in the fight for the first four or five rounds he's in with a good chance of winning. He's got a good work rate and I expect him to come on strong in the second half."
Davies Faces Keates for Vacant English Title
Ohara Davies will face Andy Keates for the vacant English Lightweight title at The O2 on April 9, live on Sky Sports Box Office.
Davies boxes for a first title in the paid ranks, racing to 10-0 and adding an eighth stoppage win to his impressive resume in January at The Copper Box Arena in London.
'Two Tanks' will look to win the crown in style, aiming for a fifth straight win inside the distance on his fourth outing at the Greenwich venue, but Keates will be looking to land the belt in his second tilt at the title, having been edged out by Kevin Hooper in November.
"I'm delighted to finally get the chance to fight for a title as a pro," said Davies. "It's a big step for me from the six-rounders I've had so far – this is my first title fight and first fight over 10 rounds. I've had to tailor my training to be ensure I'm fit for the latter stages – if it lasts that long.
"Andy is a Southpaw so I've had to prepare for that. I've watched some of his fights on YouTube and his fight with Kevin Hooper was good – but I'm confident I can stop him in three rounds.
"My apprenticeship is over now and after this I'm ready to start challenging for British title and beyond."
Davies' clash with Keates is part of a huge night of boxing at The O2 as Anthony Joshua MBE challenges Charles Martin for the IBF World Heavyweight title.
Singh Meets Indian Prime Minister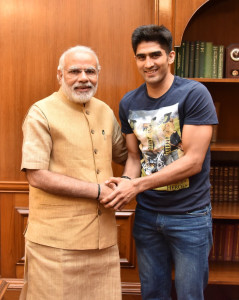 Indian fight sensation Vijender Singh is back in his homeland and today met with the honourable Prime Minister Mr. Narendra Modi at his office in South Block.
Undefeated Singh demolished Alexander Horvath earlier this month to take his record to 4-0 with 4 knockouts and has returned home from a brief visit ahead of a busy forthcoming fight schedule.
Red-hot Singh will feature next on the big Copper Box Arena card on Saturday 30th April on the undercard of Billy Joe Saunders' WBO World Middleweight title defence against Max Bursak.
Then he's next up on the undercard of his stablemate Jack Catterall's WBO Intercontinental Super-Lightweight title defence on Friday 13th May in Bolton.
Whilst meeting Mr. Modi, Singh discussed his big Indian 'homecoming' on Saturday 11th June in New Delhi and the present popularity of boxing in the country before presenting the premier with a pair of boxing gloves.
Singh said afterwards, "It was pleasure meeting the Prime Minister. I am happy that Modiji is following my pro bouts very closely and he discussed a lot with me about my previous bouts. I have invited him to my title bout scheduled in Delhi on 11 June and he assured me that he will attend it. He also discussed with me the present scenario of Indian boxing and asked me to send my inputs for the betterment of the sport in the country. He wished me goodluck for my next two bouts in the UK before coming back to India for title fight".