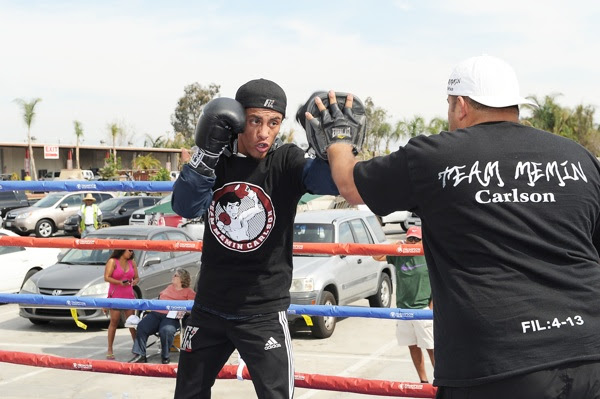 Thompson Boxing Promotions hosted an open to the public workout over the weekend that featured a handful of boxers that will take part in Friday's loaded "New Blood" fight card from the Doubletree Hotel in Ontario, Calif. In the main event, all-action knockout artist Carlos Carlson (12-0, 9 KOs) and the upset-minded Javier Gallo (21-8-1, 12 KOs) battle for the vacant WBC Latino Bantamweight Title. The bout is scheduled for eight rounds.
The co-feature showcases another pair of exciting bantamweights. Once-beaten Issac Zarate (6-1) of Los Angeles takes on Christian Torres (3-4) of Guadalajara, Mex. in a six-round fight.
Special guest and top welterweight contender Josesito Lopez was in attendance to show his support. After the workout, Lopez and the boxers participated in a meet and greet autograph session for the hundreds of fans in attendance.
CARLOS CARLSON
"One of the coolest things about being a professional athlete is participating in fan appreciation events like these," Carlson said. "They get an inside look at how we prepare for fights."
"This fight is very important to me," Carlson continued. "It is my first headlining event as a Thompson boxer and the pressure in on me to perform at a high level. My opponent, Javier Gallo, is a veteran with a good looking resume. He is going to come after me and try to give me my first loss. That will not happen because on Friday I am gong to become the WBC Latino bantamweight champion."
JUSTIN DAVENPORT
"I am ready for a good, exciting fight," Davenport said. "I am not interested in playing patty-cake with my opponent. My goal is to knock him out and give the fans something to clap about."
"My training camp went as good as it possibly could have," Davenport explained. "I train at high altitude at the Valencia Boxing Camp in Lake Arrowhead. Oscar de le Hoya made that a popular training destination and training in the thin air does make a great deal of difference. I have a lot more energy than I normally do and its almost impossible for me to get tired."
CESAR VILLARRAGA
"I have been back in the U.S. for about a month training with Danny Zamora here in the Los Angeles area (off-season home is in Colombia)" Villarraga said. "I had already been training back at home before arriving here. All we are doing now is just putting the finishing touches on what has been an excellent training camp. I am looking forward to starting the year with a nice win."
ISAAC ZARATE
"The fans were excited to see us train and the autograph signing session was fun for all of us," Zarate said. "Little things like these make us feel very lucky that we get paid to play a sport that we love."
ERIC ITUARTE
"This was my first public workout as a professional fighter," Ituarte said. "I hope I can do more of these in the future because it was refreshing to get outside of a gym and train outdoors. I thought it was going to be a distraction, but it never felt that way. All of us treated it like a legitimate training session. I can tell that everyone is excited to fight this Friday."
NEECO MACIAS
"I can't wait to fight on Friday," Macias said. "The week of the fight is actually when I am most restless because I get so pumped to get in the ring. Last time I fought at the Doubletree Hotel the crowd really liked what I did. I am hoping I can replicate that kind of energy on Friday."