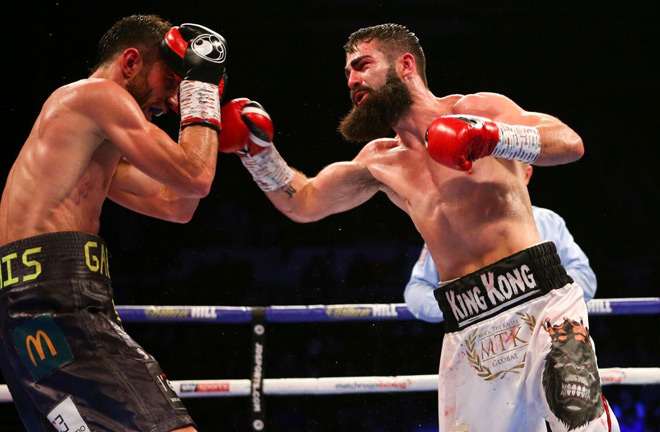 The undercard at the FlyDSA Arena in Sheffield was severely damaged at the last minute, when Josh Kelly pulled out of his scheduled Welterweight contest with David Avanesyan through illness.
The top billing of the preliminaries was therefore reserved for Dubliner, Jono Carroll who came into the ring against Guillaume Frenois to the strains of I Just Can't Wait To Be King, from the Disney film, The Lion King. Unfortunately his hopes of an IBF Super Featherweight Title shot against Champion, Tevin Farmer suffered a setback, as he was held to a draw.
Carroll boxed well in the opening round, but in the second, a clash of heads resulted in a cut to Jono's left eye. This didn't deter Carroll, but Frenois landed frequently with his right jab and left hand to seemingly win the round. This was until a solid left hand landed high on Frenois' head, momentarily buzzing him. He managed to see out the half a minute remaining. In the third, Carroll nailed Frenois, who's right eye was showing damage from the same earlier clash, with another hard left that stiffened the Frenchman's legs.
Every time Carroll landed flush, Frenois looked troubled, but he rallied from being under fire in the fourth, to landing with decent counter shots of his own in the fifth. Frenois was countering regularly, and was enjoying much success in the sixth, picking the Irishman off, and able to tee off with shots of his own. It was a good, give and take contest, with Carroll's sometimes reckless marauding being punished by Frenois.
Carroll focused more to the body in the ninth, and this brought him more success, but Frenois wasn't wilting, and again was countering well. The two traded in the tenth, with Frenois enjoying the better of the exchange, his left hand rarely missing.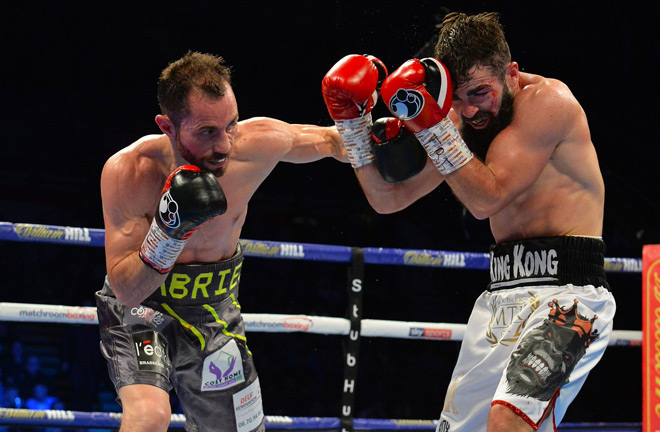 At the end of the round, Carroll landed a right hand well after the bell, and Frenois decided to take a knee, seemingly in an attempt to make sure Carroll was punished, which luckily for him, he wasn't. Frenois regrouped, and boxed well off the back foot in the eleventh, with Carroll's attacks were now becoming more ragged. Frenois finished the fight much more the fresher, but the final round was difficult to score, with both men having minor success.
It was a long and anxious wait for both men as the fight went to the Scorecards. French judge Vincent Dupas scored 115-113 for Frenois, while German George Milke scored the same for Carroll. The decisive card proved to be Mike Alexander's, who scored 114-114 to declare the fight a three way split draw. Frenois and his team were outraged at the verdict, and one can imagine that a rematch will take place before either gets a shot at Farmer.
Anthony Fowler moved to 9-0 by blowing away Jose Carlos Paz inside a round, in his first scheduled ten rounder. It was a lethal left hand to the body that did the damage, with Paz sitting out the count in full, just after the halfway point of the round, wincing in pain.
9-0 (8KOs) 5 fights this year, all wins by KO, 2019 is my year Love to everyone supporting my journey ❤️ #TeamMachine 👊🏻🤖👊🏻 pic.twitter.com/kht7lWfrIl

— Anthony Fowler (@afowler06) December 9, 2018
Fowler admitted post fight that he wanted rounds, and his promoter, Eddie Hearn, announced that Scott Fitzgerald will be in the opposite corner to Fowler in early March. This will be following a warm up fight for Fitzgerald in January, upon his return from a hand operation.
Kid Galahad marked time while he waits for a shot at a World Title by taking on Bryan Mairena in an eight rounder. IBF Featherweight mandatory Galahad was happy to let his Nicaraguan opponent let his hands go in the opener, while connecting with a mixture of shots himself.
It was a pretty pedestrian pace in the early going, with Galahad seemingly intent to bank some rounds, but Mairena was lively and landed with a couple of decent right hands at the end of the second frame.
This seemed to spark the Qatari born Yorkshireman into action, and he started the third with more authority, landing decent shots from his unorthodox style at regular intervals. Mairena continued to charge forward, but was continuously picked off when trying to land the same right hand shot. Mairena had maintained a high workrate, and in the second half of the fight he started to fade, with Galahad's shots increasing in power, a clean left hand landing flush towards the end of the fifth.
Yikes! 💥🥊 pic.twitter.com/zp1O4YPCHh

— Dean Woolley (@woolster80) December 8, 2018
It was more of the same in the sixth, and Galahad upped the ante in the seventh, increasing his output against the rapidly tiring Mairena, who still refused to budge, managing to make it to the final frame. He deservedly saw out the fight, as a quiet last round petered out. Galahad secured all eight rounds in an 80-72 win on referee John Latham's scorecard.
Qais Ashfaq went through his full repertoire in a dominant victory over the gallant Jay Carney. Liverpudlian Carney took centre ring from the off, but was soon discouraged by a short Ashfaq right hand that bloodied his nose.
Leeds' Ashfaq stepped this up in the second, with single shots landing at will. Hard body shots towards the end of the round forced Carney to hold on, which he duly did to see out the round.
It continued to be one way traffic, and in the fourth, Ashfaq upped the work with hard combinations and body shots landing at will. There was certainly a case for the fight to be stopped, but Carney's corner were intent for their man to stay in there, after referee Steve Gray's visit to the corner at the end of the round.
It would only take 40 seconds of the fifth for that decision to not be vindicated, as more punishing shots from Ashfaq forced Kieran Farrell in the Carney corner to throw in the towel.
Ashfaq moves to 4-0 as a result, and insisted post fight that he is only performing at 50%, but close to fighting on all cylinders, and will be on the hunt for Titles in 2019.
WATCH! @TerriHarper96 and @Qais_Ashfaq have both already scored impressive stoppage victories on the @SpecialKBrook v Zerafa undercard at Sheffield Arena 🥊💥 https://t.co/vi5PB3CdEN

— Sky Sports Boxing (@SkySportsBoxing) December 8, 2018
Terri Harper kicked the Sky Sports show off with an impressive second round win over Tanzanian, Feriche Mashaury. Harper was in total control from the very start, and with just over a minute gone in the second, she swarmed over Mashaury in the corner with fast combinations and clean shots, forcing the referee to step in.