In a stacked Friday Night Fight Cards held at the Cosmopolitan in Las Vegas, Nevada, the headline bout of the evening was an IBF junior welterweight eliminator between Victor Cayo and Lamont Peterson. The two 140 lb contenders with contrasting styles went to war with one another, and Lamont Peterson emerged in the final round as the winner, and will be in line for a title shot. The night also featured a light heavyweight match between Yordanis Despaigne and Edison Miranda, and a number of intriguing prospects. Full Cayo-Peterson results below.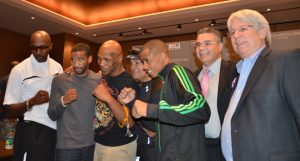 The Cayo vs. Peterson match exceeded any and all expectations that could have been had for it. Not only was it a truly meaningful and significant main event for a Friday Night Fights card, but the fighters came to battle it out. The two traded blows for the duration of the bout, with Peterson throwing and landing crisper and technically superior shots and combinations. Peterson also put in a lot of solid body work, while Cayo was looking to do damage with thudding punches.
In the 12th, Peterson found a different gear as Cayo instead was exhausted. He poured on the pressure and sent home a right hook that left Cayo on his knees on the canvas. He was counted out at 2:46 of the final round, unable to beat the count. Impressive performance and victory for Lamont Peterson, and now he is technically in line for a shot against champion Amir Khan.
In earlier action, Edison Miranda battled Yordanis Despaigne in a match that heated up with plenty of back and forth trash talking before it began. Despaigne, however, ended up winning in an unexpected way: 5th round disqualification. Miranda earned his DQ with a sequence of low blows, and he had been warned twice in previous rounds. The short bout was action-packed however, and in the fourth, Miranda was up to his usual tricks. He dropped his hands and let Despaigne go to town with a multiple shot combo, and then kept on coming, to the delight of the crowd.
Several big name prospects were on the card, including Rances Barthelemy and Badou Jack, as well as Sergey Kovalev, all three undefeated fighters. Barthelemy earned a unanimous decision win in his bout, while the other two scored stoppages over their opponents.
Comments
comments