WBA, WBC & WBO Female Welterweight Champion Cecilia Braekhus (21-0, 5 KOs) lived up to her billing as boxing's "First Lady" with a spectacular points victory over French star Anne Sophie Mathis (26-3, 22 KOs). After ten exciting rounds, she was ahead 97-93 on all three cards. "This is the happiest day of my life," she said afterwards. "Mathis was very strong, the toughest opponent of my career, but I found a way to beat her. This is my biggest win ever."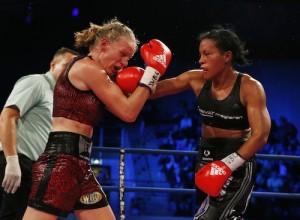 With 2,345 fans in attendance – at least 550 of them from Norway – at Arena Nord in Frederikshavn, Braekhus used her superior boxing skills to stay out of harm's way, although Mathis had her moments. But Braekhus cleverly blocked her attacks and landed punches on her own – single shots as well as combinations. In the seventh, she even wobbled Mathis, but she bounced back, and it remained an exciting encounter until the very end.
"Cecilia fought a great fight," Mathis said. "She is very fast and a very good boxer." Asked about a potential meeting with Holly Holm, whom Mathis had knocked out cold last December, she answered: "Braekhus is better than Holm. She is faster, has better movement and better boxing skills."
Promoter Nisse Sauerland praised Cecilia after "the fight of her life." He said: "Cecilia left no doubts that she is the best female boxer out there. Mathis was very strong, very dangerous, but Cecilia proved her class in impressive fashion. This was a fantastic fight."
In the co-featured main event, Patrick Nielsen defended his WBA Intercontinental Middleweight Title with a clear points victory over Jose Yebes. Dennis Ceylan also celebrated a successful professional debut, stopping Artsem Abmiotka in the second round. Erik Skoglund continued his winning streak with a points victory over Ivan Maslov, while Torben Keller outpointed Laszlo Szekeres. Ahmed Kaddour also defeated Max Maxwell on points.