Fight Pick & Preview – "Bad" Chad vs. "Superman" Stevenson:
On June 8, WBC Light Heavyweight Champion "Bad" Chad Dawson defends his belt against hometown favorite Adonis Stevenson at the Bell Centre in Montreal. Dawson is looking to get cooking again as top dog in his weight class after a disastrous attempt to unseat 168-pound kingpin Andre Ward 9 months ago. Stevenson, meanwhile, is in search of his first title.
This is not an easy comeback fight for Dawson–having to come into Montreal to tangle with a very hard-hitting fighter who is on a roll of 7 straight knockouts. Still, if anyone knows how important the issue of weight is, it's Dawson. He's back where he belongs at 175, while Stevenson is really a super middleweight looking to make noise in a new division against one of its best fighters.
Date: June 8, 2013
Site: Bell Centre, Montreal, Quebec, Canada
Weight Class: WBC Light Heavyweight Championship: 12 Rounds
Chad Dawson, 31-2 (17 KOs), New Haven, CT, WBC Light Heavyweight Champion
vs.
Adonis Stevenson, 20-1 (17 KOs), Longueuil, Quebec, Canada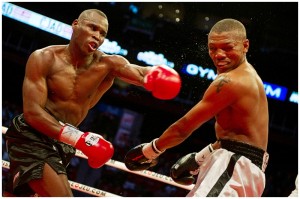 Stevenson was penciled-in to fight Carl Froch, but he got pushed aside so "The Cobra" could renew acquaintances with old rival Mikkel Kessler. Eager for a shot at 35, Stevenson jumped at the opportunity to fight Dawson and who knows, maybe it's the more winnable fight. After all, Dawson was hammered physically and mentally in his lopsided 10th-round TKO loss to Ward.
Gotta wonder about Dawson. The southpaw is only 30, but it's been 6 years since he exploded onto the scene with a big win over Tomasz Adamek. Not everyone is afforded a decade-long stay at the top. Combine that with the Ward debacle and it might be fair to say that Dawson is not quite the force of old.
With fighters like Dawson, the ambition can tend to come and go. He lost to Pascal pretty much because he didn't work hard enough. When he imposed himself, he was the better man. Against Ward, his lack of effectiveness and ability to adjust was alarming. He was a 5-1 underdog and not expected to win. There were still some who felt he could give Ward some problems and in the end, he was utterly impotent. You have to wonder if he still has the fire.
Dawson's last 5 fights tell a contradictory story. He was beaten by Pascal, then he looked decent in beating Adrian Diaconu. He seemed to implode against the tricky Hopkins in their first fight, a 2nd-round no-contest, before showing drive and steadfastness by beating B-Hop in the rematch.
Yet even in that fight, his grip on the fight was tenuous, as if trainer John Scully really needed to try hard to to coax the best effort and concentration out of Dawson. Then came the letdown against Ward. Sure, it came against a guy who is possibly the best fighter in the world. By the same token, that doesn't mean his lack of effectiveness or thoughtfulness wasn't distressing to see.
Stevenson is hoping to catch Dawson at the right time. At 35 and struggling to get a meaningful fight, he now finds himself with a big opportunity, albeit at a higher weight class. But he's at home, so maybe that helps balance the scale. In addition, Stevenson is coming off a run of success, unlike Dawson, even if it has come against lesser opposition. After all–while Dawson was settling business with Hall of Famer Hopkins, Stevenson was trying to even the score with sub-.500 Darnell Boone, who had knocked Stevenson out in 2010. So it's all relative.
It can be misleading to characterize a fighter like Stevenson off his worst showing. You never like to see a rising KO artist like Stevenson suffer a knockout like that, but Boone is one of the best fighters with a bad record in this era and other than that, he has looked pretty good. He showed late power against Donovan George when he stopped him in 12 and appears more well-rounded than he was 3-4 years ago.
Even though Stevenson is considerably older than Dawson at 35, he may be the fresher fighter. "Bad" Chad has tangled with Tomasz Adamek, Jean Pascal, and fought two fights each with Glen Johnson, Antonio Tarver, and Bernard Hopkins. Throw in all the other fights and his tires might be a little threadbare. He always seemed to have more talent than drive and that equation doesn't usually get better with age and added fights.
Dawson vs. Stevenson Prediction
The version of Dawson that beat Adamek and others would likely outbox Stevenson lopsidedly. It's just that Dawson might be heading down the hill that awaits all fighters. Meanwhile, Stevenson, while iffy and unproven even at 35, is on a good run of recent success. The work he put in with the late Emanuel Steward will probably help too. I see the physicality and power of Stevenson, bolstered by a rabid supporting crowd, giving Dawson major issues. I like Stevenson by decision.
Prediction: Adonis Stevenson by unanimous decision.