The shake-up of the light heavyweight division will (hopefully) finally be settled on April 28 in Atlantic City, when the ageless wonder Bernard Hopkins meets a man who many thought would once dominate the 175-pound division for years, Chad Dawson. The first bout between these two men ended in controversy, as Dawson threw Hopkins to the canvas and (faked, according to some partisans) injured Hopkins left shoulder.
The referee initially ruled it a TKO2, but that was changed to a No Contest. The two fighters are ranked #1 and #3 respectively by Proboxing-fans.com.
Chad Dawson (30-1, 17 KOs)
6'1″ tall; 76″ reach; southpaw; 29 years old
American
Former light heavyweight world champion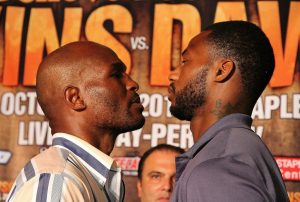 Bad Chad is a well-rounded, talented boxer-puncher. He is a classic example of a fighter who isn't the best at anything, but does most things well. Dawson has good power and a crisp, two-fisted attack, but isn't a banger; he is fairly rugged, although Eric Harding was able to dent his chin way back in 2006. Where Dawson really shines is in speed and mobility.
Dawson is also an experienced boxer, which is important when facing Hopkins, easily the craftiest man in the sport. He beat the aforementioned Harding; thumped a then-undefeated Tomasz Adamek; won a pair of clean victories over both Glen Johnson and Antonio Tarver; and trounced tough Adrian Diancou.
If you ask me, the reason Dawson's knockout count isn't higher is because he has been fighting a very tough slate of opposition for almost six years now. His sole loss is to Jean Pascal, and many think Dawson merely had a bad night and would win a rematch.
Bernard Hopkins (52-5-2, 32 KOs)
6'1″ tall, 75″ reach; 47 years old
American
Former Undisputed World Middleweight Champion; Current WBC Light Heavyweight Champion
Hopkins is the sport's old grand master, the modern day Archie Moore. Although calling Hopkins an "ageless wonder" is fitting, it is not quite true to say that somehow the physics of time do not apply to the man. Over the years he has evolved his style from being a tireless, razor-sharp mincer, the sort of fighter who deserved the moniker "The Executioner," and into a cagey master craftsman. He has a profoundly deep bag of tricks, and seems capable of pulling whatever he needs out of it to give his opponent a desperately hard time, if not prevail.
—> Check out the betting odds for Dawson-Hopkins II
Dawson vs. Hopkins II Preview & Analysis
I see two factors as being critical to this fight: in-ring focus and sheer athletic capacity. Dawson has one of those two factors in the bag, but whether he can grab the other one and keep it is open to question.
For a 47 year old, Hopkins is in magnificent condition. There are boxers 20 years younger who are not as physically capable, but none of those men are operating at the peak of the world class of the sport. Even though Hopkins has demonstrated he can still open up and out-work the opposition like he did in the middleweight glory days, he can only do so in spurts (sustained spurts, but spurts nonetheless).
Also, while Hopkins is still quite slick, he was never a speedster and has slowed down a bit. It is no coincidence that the last man to defeat Hopkins was Joe Calzaghe, a boxer who is almost synonymous with blinding hand speed and high work rate.
It is also no coincidence that Calzaghe was a focused, confident and experienced champion, otherwise Jean Pascal would be the last man to have beaten Hopkins. Many thought that Pascal, with his high work rate, would overwhelm B-Hop. Yet Pascal had crudities in his style that Hopkins was able to exploit, and lacked the poise to doggedly plow forward with what might have been a winning game plan while Hopkins was piling onto him and playing mind games (such as doing push-ups in the 7th).
That is where Dawson might have a problem, because he isn't the most mentally disciplined fighter in the sport. He is so good that he has beaten guys before even while almost sleepwalking in the ring, but against Pascal, he showed an inability to focus and put it together even when his belt and reputation were on the line. Keeping that in mind, who is to say that Dawson will stay tightly focused and unperturbed for all 12 rounds of this fight?
There is one more question mark, but I count it as only a minor issue: how much longer can B-Hop continue defying Father Time? I'm so sick of that question, however, I choose to ignore it. When Hopkins gets whipped because he is a doddering old man, then I'll worry about it. Until then, age is a factor for Bernard Hopkins only insofar as I have already described.
Dawson vs. Hopkins II Prediction

This is the question everyone in this fight ought to be asking "Will Bad Chad come into the ring with some cotton stuffed into the back of his mind?" If you think not, then you must see Dawson using his deft footwork to avoid the worst of B-Hop's crab-like punch-clutch-punch some more tactics, and applying his crisp combination punching to steadily wear down and crack through the old master's repertoire of diffusion tactics.
He must stay focused on this game plan, however, clinging to it for dear life. If Dawson doesn't, he stops moving, becomes a stationary target, and Hopkins will cling to him like a old vicious crab and pincer him to death.
I think Dawson will come into the ring with that kind of focus. Dawson's real danger isn't being cotton-headed, but losing his temper. Bad Chad has wanted a dance date with B-Hop for years now, and it must have been frustrating for him to watch Hopkins go right after Jean Pascal after he lost the title. Only after Hopkins saw Dawson as beatable did he agree to get in the ring with him, and the result of that encounter was a doubly frustrating No Contest (and note where Hopkins's use of the punch-clutch-punch some more tactic got him there). That is actually better for him, because if Dawson loses his cool with Hopkins, it only costs him a round or two. Hopkins can piss off a fighter like Dawson, but he can't shake him up.
Prediction: Chad Dawson UD12 Bernard Hopkins
Comments
comments