Dawson vs. Pascal Light Heavyweight Title Fight Preview
On August 14, Chad Dawson will travel into the Great White North to challenge Jean Pascal for the WBC Light Heavyweight Title on Pascal's home turf in Montreal. Despite not having a belt, Chad Dawson is the clear top dog in the division, while Jean Pascal is the consensus #1 contender (excepting ageless wonder Bernard Hopkins). This is a rare match-up between two of the best fighters in their division with both men in the prime of their fighting prowess.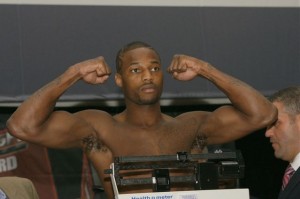 Chad Dawson (29-0 with 17 KOs)
6'1″ tall, 76 1/2″ reach, 27 years old
American
Former WBC and IBF Light Heavyweight Champion, both titles vacated/stripped
Dawson's resume in recent years reads like a who's who of the 175 lbs. and 190 lbs. divisions. He owns a win over Tomasz Adamek, who went on to great success as a cruiserweight and is now a heavyweight with a win over Chris Arreola (that Adamek victory just keeps looking better and better).
He also has a pair of wins over both Glen Johnson and former division ruler Antonio "Magic Man" Tarver. Chad Dawson has come so close to cleaning out the division that Jean Pascal is literally the only opponent in the division worth fighting this year. Dawson is a solid boxer-puncher who uses his hand speed and mobility to hold opponents at bay and land blows.
Jean Pascal (25-1, 16 KOs)
5'11" tall, 67″ reach, 27 years old
Haitian-Canadian
WBC Light Heavyweight Champion
Jean Pascal moved up from super middleweight after being stymied by Carl Froch in a shot at the vacant WBC 168 lbs. title in 2008. That was his sole loss. Since then, he beat tough Adrian Diaconu of Romania twice (in the first bout, Diaconu was undefeated) and fringe contender Silvio Branco. This fight is his fourth defense of the WBC's green belt. He dislocated his shoulder in the second bout with Diaconu, and this showdown with Dawson was postponed from June to August principally to allow more time for Pascal to heal. Pascal has respectable pop in his punches, good hand speed, some skill as a counter-puncher, decent stamina and a chin good enough to withstand repeated bombs from Carl Froch. However, the Francophonic fighter does tend to lose his focus and has a porous defense.
Dawson vs. Pascal Analysis and Prediction
In this bout, Jean Pascal faces a man who is taller, has 9 1/2″ of reach advantage, and substantially faster hands. That means hell for Pascal, who is used to at least having a hand speed advantage over slow pokes like Diaconu and Froch. Without the speed advantage, he is going to have a hard time landing against a mover with long arms like Dawson. I also do not expect him to be able to sustain a pressure assault on Dawson. Nevermind that Dawson will eventually adjust to such tactics; Pascal himself alternates between slapping his shots and slamming them, and shows a tendency to let his momentum drift and stall.
I can see Dawson bagging a few rounds, Pascal rallying and bagging a few rounds himself, but then Dawson getting back on track and putting his man down. This is a case of a good 168 lbs. fighter taking on a potentially great 175 lbs. fighter.
Dawson vs. Pascal Prediction: Dawson TKO8