Chavez, Jr. Beats Rubio, Donaire Gets Past Vazquez, Jr.
Both favorites won on tonight's big HBO card. But that hardly tells the whole story. Chavez gutted out a 12-round unanimous decision over Marco Antonio Rubio in the main event. In the opening bout on HBO's big card on Saturday night, Nonito Donaire endured a tough challenge from Wilfredo Vazquez, Jr. to annex the vacant WBO 122-pound title. Good performance from Chavez, Jr. and Donaire.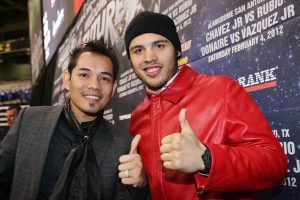 Julio Cesar Chavez Jr vs. Marco Antonio Rubio Results
Before the fight, news surfaced that Chavez, Jr. had been arrested for DWI. In addition to his weight-making issues, that cast a pallor of additional doubt on the fight. Combine that with the fact that Rubio is considered his litmus test for whether he's a real fighter or a manufactured champion and this is a high-stakes encounter indeed. Chavez, frail-looking at the weigh-in at 159.5, is a reported 181 inside the ring tonight.
In a tentative first round, Rubio followed Chavez around, taking a nice right hand and a few bodyblows for his efforts. Not much going on. Nice right hand by a more active Rubio at the end of the round. 10-9 Chavez, Jr.
Hands moving more in the 2nd. Chavez began to engage Rubio, and is alternating between laying in the trenches and having Rubio follow him around, showing good ring generalship. Chavez lashed Rubio with a couple shots late. 10-9 Chavez, Jr.
Chavez is focusing more to the body and when his left hook lands, it hurts. Rubio seems a bit unsettled, with Chavez doing the more noteworthy work at an alarming clip, even though Rubio is trying. He is alternately moving Rubio into the ropes and keeping him at long range–succeeding at both. Rubio is landing, but without the confidence and balance, they don't have that normal zing. 10-9 Chavez, who has won the first 3 rounds.
Rubio is at least doing the right thing in staying busy. It began to pay dividends in the 4th, with him hotting Chavez, whose workrate dipped. Getting untracked, Rubio is roughing Chavez up a bit. 10-9 Rubio. Score 39-37 Chavez, Jr. Whether Chavez, Jr. was taking a round off remains to be seen. If so, Rubio's diligence and hustle might pay off.
In the 5th, Chavez started pounding away at the body. Shots thudded resoundingly. Clashing heads are becoming a problem. Both fighters are chippy. A low blow by Rubio brings a break in the action, Chavez seems enlivened and lands a crisp right to the head of Marco Antonio. Good stuff from Chavez, Jr., showing different dimensions. Moving from side-to-side, he suddenly bulls Rubio to the ropes, unleashing hurtful-looking volleys to the head and body. Nice round for Julio, 10-9. 49-46 Chavez, Jr.
More long-range approach than last round for Chavez, but the activity level of Rubio is getting the edge in a tame 6th. Chavez comes alive at the end of the round. Still gave it to Rubio. 58-56 Chavez, Jr.
Chavez, again switching it up, spent most of the 7th round with his head in Rubio's chest (chin?) as he pressed the action. Rubio hung in there, but the better activity and more telling shots gave Chavez, Jr. the edge. 68-65 Chavez, Jr.
The 8th continued in the trenches with both men standing in front of each other. Chavez continues to work the body. Jolting shots on the inside are beginning to have a telling affect, perhaps more now than at any point during the fight. Chavez has really punished Rubio in the past 2 rounds and looks far more mechanical than the more fluid Chavez. While dogged, Rubio needs to do something to reverse this negative inertia or this could get away from him. 78-74 Chavez, Jr.
The 9th saw an increasingly sluggish Rubio providing the perfect foil for Chavez' skills. Rubio seems absolutely stymied by the versatility and loose-limbedness of Chavez, Jr. More of the same in the 10th. Rubio is moving his hands, but whenever Julio gets on point, his offerings are just so much more compelling. Shots whipped into the body and right hands snapped Rubio's head back. They are fighting hard, especially Chavez. It's not a great fight, but the crowd seems appreciative of their efforts. While the 10th was a better round for Rubio, Chavez seemed to edge it, increasing his lead to 98-92 on my card.
Rubio opened the 11th nicely, peppering Chavez with a nice combo. Chavez worked Rubio over in a corner to stake his claim the the 11th. Wearily winging at each other, a passionate exchange ensued in the last minute of the 11th in the best action of the fight. Rubio is strafing Chavez with shots, with Chavez clocking Rubio back in frenzied action. Both men are flailing away at each other at the bell. Tough call, but I'll give it to Rubio. But what a gutsy display by both men. You usually don't see that until the 12th round.
The last round opens with both men heaving each other into the fray trying to gain an edge. Chavez pounds Rubio against the ropes. Rubio is moving his hands earnestly as always. Brutal stuff these last few rounds. Chavez keeps catching Rubio going back in a straight line, slamming him with right hands. Chavez' shots have more zip on them, but Rubio is keeping him honest as both men trade to the final bell.
Nice performance by Chavez, Jr. Championship claim aside, he earned his stripes in large measure this evening, against a surging legitimate contender. I had him winning 117-111. Scores were unanimous: 118-110, 116-112, and 115-113. Chavez moves to 45-0-1 (31) with Rubio falling to 53-6-1 (47 KOs).
Nonito Donaire vs. Wilfredo Vazquez Jr. Results
Nonito Donaire won the WBO 122-pound title in a split decision over Wilfredo Vazquez, Jr. Scores were 117-110 (twice) in favor of Donaire and an unfathomable 115-112 score from Ruben Garcia in favor of Vazquez, Jr.
The fight opened with Donaire, 121.6, firing off sudden bursts of punches, as he out-maneuvered the lead-footed Vazquez, Jr. The Puerto Rican seemed to be still trying to find his bearings in the 2nd, a bit flummoxed by Donair's speed advantage.Vazquez, Jr.,122, tried employing his jab, small consulation against the wicked-looking swings of the "Filipino Flash." Donaire is expert at making it so he's in perfect range, as to catch his man at the end of his punches. Still, Donaire somehow has a mouse under his right eye as the 2nd round closed. 20-18 Donaire.
The 3rd saw Donaire take measure of his man with a lead hook that had Vazquez, Jr. doing a little dance. Donaire seized the moment and began pouring it on. Perhaps too overzealous, Donaire stayed in the pocket too long and a Vasquez hook straightened him up a bit and helped hold off Donaire. But Vazquez, Jr. was still rattled and spent the rest of the round tring to survive against his immense-hitting foe.
Donaire is putting on a punching exhibition. Extremely heavy-handed, he is a Ferrari to Vazquez' Model-T. But Vazquez, Jr. is gutsy and smart, sneaking in that jab and doing his darnedest to stay in the fight. While the first 4 rounds have gone to Donaire and he's dominating, the Puerto Rican is still in it. In the 5th, Vazquez, Jr. kept zeroing in with his jab. Donaire's eye is not looking that great. But when Donaire lets his hands go, the superior firepower just seals the deal. Though resolute, professional, and slick, Vazquez will have to do more. A nice right in the 5th, however, might have given him the round, a session Donaire seemed to take off.
Donaire opened the 6th on his toes, pecking away at his heavier-footed opponent. When Vazquez pressed the issue, he was met with shots–check hooks and crisp bodyshots. Vazquez, Jr., continuing his progress from the 5th, is pressing the issue a bit more, especially with an active jab. He has basically fought Donaire on even terms or better in the past 2 rounds, both of which I gave him. 4-2 Donaire.
Toe-to-toe action ensued in the 7th, with both fighters landing shots. Donaire honed in with some shots in the second half of the round to take the stanza, but Vazquez is being very competitive. Donaire's eye is an issue and he needs to protect it. If only Vazquez, Jr. had more power or strung his punches together better. He is basically reserved to single shots and while active, he isn't terribly dynamic. In the 8th, Vazquez, Jr. is doing better than any Donaire opponent in recent memory. 6-2 Donaire.
Action slowed in the 9th, with both trying to do some long-range sharpshooting. Then with under a minute left, an uppercut rattled Vazquez and a split second later, a hook deposited him on the canvas for the first time in his career. Vazquez, Jr. survived the round. With the 10-8 round, Donaire takes a 88-82 lead.
Gotta love this Vazquez, Jr. kid. More or less outgunned, he is fiercely giving it his all. But despite digging in, he was met in the 10th with more sharpshooting from Donaire. At the end of the round, Donaire cleverly shifted his feet to find open angles to zing in crisp shots to gain some separation in an otherwise fairly close round. The 11th saw both men rather winded. Donaire kept Vazquez, Jr. at the end of his shots, but Vazquez kept pressing forward and has hit Donaire with dozens upon dozens of jabs. Still, another round for Donaire.
Donaire did his thing again in the 12th. Too shifty. Too smart. Too much firepower. My card reads 118-109. The score doesn't reflect the fact that since Donaire came into the public eye with a KO of Vic Darchinyan, this was far and away his most difficult fight. But even though Donaire won a title in his 4th weight class, it is actually Vazquez, Jr. whose stock rises.
Donaire is certainly top-notch and did well to repel the spirited challenge of the better-than-expected Vazquez, Jr. But let's put the "World Title" tie-in into perspective. The best 122-pounder is either Toshiaki Nishioka of Guillermo Rigondeaux. By beating Vazquez, Jr. for the vacant WBO crown that Wilfredo had just lost makes Donaire's 122-pound title claims spurious at best. This is not to downplay his accomplishments or worth. Just in today's watered-down era of "world titles," things need to be kept in perspective.
Just as an aside, someone please talk to Jim Lampley about his frames.
—-
Thanks for checking out ProBoxing-Fans.com and our coverage of HBO's "Welcome to the Future" doubleheader featuring some of the biggest names in the sport today, Julio Cesar Chavez Jr. and Nonito Donaire.
What's next for these guys after the way everything shook out tonight? Keep on coming back right here for more breaking boxing news updates and coverage.