Undefeated challenger Tyson Fury believes his July 23 showdown in "The Big Brawl" Pay-Per-View event against defending British & Commonwealth Heavyweight Champion Dereck "Del Boy" Chisora, airing live from Wembley Arena in London, is merely the first step on his chosen journey.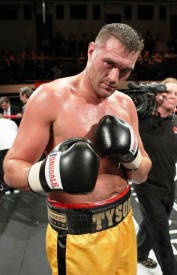 "The Big Brawl," presented by Hennessy Sports, will be distributed in the United States by Integrated Sports Media for live viewing at 3 PM/ET – 12 PM/PT on both cable and satellite pay-per-view via iN Demand, DIRECTV, and Avail-TVN, for a suggested retail price of only $24.95. Check with your PPV provider for same day replay times.
The 22-year-old Fury (14-0, 10 KOs) will be challenging World Boxing Council ("WBC") # 12 rated Chisora (14-0, 9 KOs) for his British and Commonwealth title belts in the 12-round main event. "This is a very, very important fight for me, especially having it shown live in the United States," Fury said between training sessions. "We're both 14-0 and don't like each other at all. It's a good match-up. I had to call him out recently because I was worried that he was going to pull out of our fight. All he's been talking about is money. But my promoter, Mick Hennessy, is paying him more money for this fight than he's made in his entire career. I'm really looking forward to July 23rd because, after I beat Chisora, the sky's the limit for me. I'll win the European title and then knockout one of the Klitschkos. I will be world champion."
Fury is a 6' 9," 260-pound Irishman who was born in Manchester and lives in Cheshire, England, but as an amateur boxer he represented both England and Ireland because his father is from Galway and grandmother (on his mother's side) hails from Belfast. His Irish Traveller family has a long history in boxing going back to bare-knuckles days. Named after "Iron" Mike Tyson, the WBC No 21-rated Fury is the cousin of world middleweight contender and former Irish Olympian, Andy Lee.
The personable, charismatic Fury believes Irish boxing fans in the U.S., naturally, are going to embrace him as he expands his market across the Atlantic. "Fighting on pay per view in the U.S. is good for me, particularly among the Irish over there," Fury noted. "Once the Irish in the states watch me fight and get to know me, I'll win them over and then I'll go back over there to celebrate with them when I win the world title."
Fury is deceiving, physically-speaking, largely because his obvious bulk defies his athleticism, which is a huge advantage for Tyson in the ring. "Boxers my size usually can't move very well," he explained. "I have good movement. My foot and hand speed is very good. I was blessed when God gave out talent. I'm in good shape now and will be in the best shape of my life for this fight. I'm a nice boxer with power. I'm going to use by height and range against (the 6' 1 ½") Chisora."