Two Mexican Heavyweights Battle for a Chance to Position Themselves for a Title Shot
Who is the best Mexican-American Heavyweight fighter on the planet? On August 13, 2010, this question will be answered. Top heavyweight contender Chris Arreola will take on Manuel Quezada in what promises to be a tough heavyweight battle. This fight, which will take place in Ontario, California, is Arreola's first fight since his tough loss to Tomasz Adamek. Quezada is also coming off of a rough upset loss, his coming to the unheralded Jason Gavern, so both fighters will come out of the gates with something to prove. This fight will be featured as the main event on ESPN 2's Friday Night Fights.
Chris "The Nightmare" Arreola
28-2 (25 KO's)
Los Angeles, California
Height: 6'4"
Last 5 Fights: In April of this year, Arreola suffered perhaps the toughest loss of his career in a split decision loss to Tomasz Adamek, a skilled and tough fighter who is successfully making the jump from cruiserweight to heavyweight. In his other recent fights, Arreola has established dominance and knocked out opponents such as Brian Minto and Jameel McCline, but also suffered a one sided loss to Vitali Klitschko.
Manuel "El Toro" Quezada
29-5 (18 KO's)
Wasco, California
Height: 6/1 ½"
Last 5 Fights: Aside from his loss to Gavern, which he admittedly took lightly and did not train extremely hard for, Quezada has been quite dominant in his recent fights. His most impressive win was a surprising first round knockout victory over Travis Walker to win the WBC Caribbean Boxing Federation Heavyweight title (which he later lost to Gavern).
Arreola vs. Quezada Preview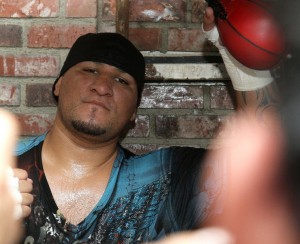 Arreola and Quezada are both fighting under the same promotional banner and have a history together. They have served as occasional sparring partners for one another and are the top two Mexican American heavyweights. This is Arreola's chance to re-establish himself as a premier heavyweight and Quezada's chance to step out of Arreola's shadow and possibly establish himself as a top contender. The similarities between the two fighters as well as the momentum factor are the two things that will make this an important night in boxing and certainly a fight to watch.
Similarities: Perhaps the most interesting thing about this fight are the similarities between the two fighters. The fact that they are both Mexican American top Heavyweight Contenders from California, both of whom are coming off of losses and are seeking to make history as the first Mexican-American heavyweight champion promises to make this a fight to watch.
Momentum Factor: Neither Arreola or Quezada are riding extreme hot streaks into the fight. Arreola is in the midst of attempting to make the jump from an entertaining, hard-hitting contender to a top tier heavyweight title challenger, while Quezada is coming off of a split decision loss himself. The fact that both fighters are coming off losses may be a good thing. The wave of momentum may not be there, but both fighters will have something to prove when they enter the ring on August 13.
Both fighters know that this is their time to shine. This is Quezada's chance to establish himself and Arreola's chance to re-establish himself as a top tier heavyweight contender to fight the likes of David Haye, Nikolay Valuev, or the Klitschko brothers.
Arreola vs. Quezada Prediction
As Arreola's trainer Henry Ramirez said, in this fight "Chris has to perform and this is Manny's big shot." And I believe that in this fight, Chris will perform. In his fights against Adamek and Klitschko, Arreola has gained great experience and will come out on top in this fight against Quezada. On August 13, Chris Arreola will re-establish himself as a top heavyweight contender, and the top Mexican-American heavyweight: Arreola by 10th Round TKO.