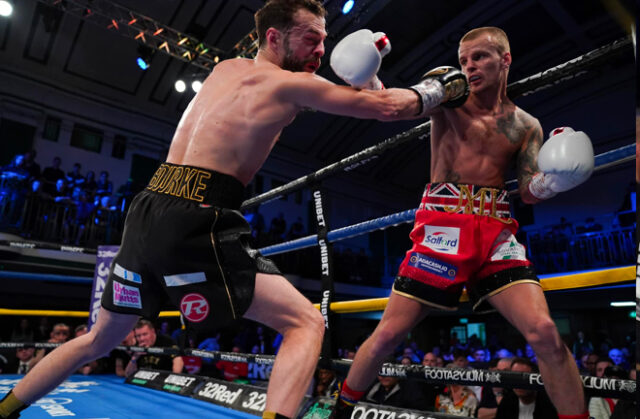 The vacant British super bantamweight title was claimed by Marc Leach, who produced a technical masterclass to take a unanimous points win against Chris Bourke at York Hall, Bethnal Green.
The pair came in as hot prospects, and Bourke had impressively taken Southern Area and WBC International belts in an unbeaten ten fight ledger, while Leach had been patiently waiting for a shot at the Lonsdale Belt since an eye catching points win over Qais Ashfaq at in October 2020.
It was a cagey opener as both men tried to establish their authority, and Bourke was caught with the odd spearing jab from the Salford man, who shaded the first. Bourke was falling short with his jab, and that was allowing Leach to counter, and he did so to good effect in the second. Leach's footwork was frustrating Bourke, and the Londoner's gameplan wasn't paying off, although he did land a stiff left had at the end of the third. Bourke was inching his way into the contest, but Leach always looked a step ahead, proving the more accurate of the pair. Leach landed with some hard decent single shots in the seventh, and Bourke's face was significantly marked compared to his opponent. Leach's pot shotting seemed to be winning the day, and he picked off Bourke in round eight as Chris was forced to go on the offensive. Leach's back foot boxing was impressive, and it looked like he was handily ahead going into the championship rounds as he peppered the face of his co-challenger. The pattern of the fight remained for the rest of the contest, and the fight went to the cards.
Scores of 117-111, 116-113 and 116-112 gave Leach a deserved victory.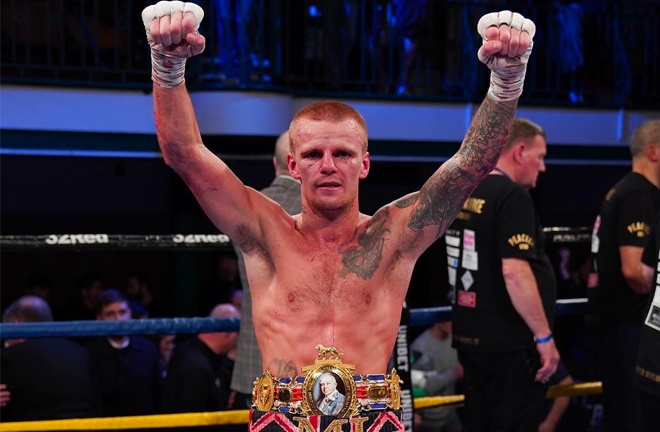 The other fight scheduled for long distance came at super featherweight, and Frank Arnold stopped Paul Holt in three rounds. Holt was down from a body shot in the third, and was under heavy fire after beating the count. A single slashing right hand stunned Holt, and as a follow up attack came in, the referee thankfully stepped in.
They don't call him 'The Tank' for nothing! 💥

Frank Arnold stops Paul Holt in the third round 💪 pic.twitter.com/SZKsWSL8on

— Boxing on BT Sport 🥊 (@BTSportBoxing) March 11, 2022
Karol Itauma dominated in his fight and forced a third round stoppage against Jiri Kroupa at light heavyweight. Itauma stepped on the gas, and a volley of spiteful punches forced a halt to the action.
Someone's 0 had to go! 👀@ITAUMAkarol improves to 6-0 with this finish of Jiri Kroupa 💥 pic.twitter.com/vto7mvBwdq

— Boxing on BT Sport 🥊 (@BTSportBoxing) March 11, 2022
Willo Hayden opened up the BT broadcast, and the Irishman scored a second round knockout of Michael Walton at super lightweight. Walton was down from an accumulation of punches in the opener, and was eventually knocked out from a right hand to the head as Hayden won his third on the spin.
What a way to kick the night off! 🔥

Willo Hayden stops Michael Walton in the second round 💥

Fight Night Live from York Hall is live now on BT Sport 2 HD pic.twitter.com/RwCdVazITQ

— Boxing on BT Sport 🥊 (@BTSportBoxing) March 11, 2022
Super welterweight Joshua Frankham extended his unbeaten record to five straight wins as he halted Dario Borosa in the third of their scheduled four rounder. A right hand had the visitor going, and a barrage of punches forced the referee to intervene. At the same weight, Jake Henty scored his first early win in two pro outings, as he stopped Henrich Herak in three rounds.
And the referee stops the contest! 🥊

A relative of @Tyson_Fury, you can see Joshua Frankham going far in this sport 🔥 pic.twitter.com/0D7XGpLSAX

— Boxing on BT Sport 🥊 (@BTSportBoxing) March 11, 2022
Enough is enough! Jake Henty stops Henrich Herak in the third 💥

What a way to get your second professional victory! 🔥 pic.twitter.com/Pi9KxJLC3S

— Boxing on BT Sport 🥊 (@BTSportBoxing) March 11, 2022
Arnold Obodai made his professional debut, and the London based cruiserweight stopped Hassan Oseni inside a round. Also at cruiserweight, Aloys Youmbi took a round to stop Tayar Mehmed. At super featherweight, Jamie Chamberlain took a four round points win against Constantin Radoi.