On Friday, June 22 on Showtime, Claressa Shields (5-0, 2 KOs) faces Hanna Gabriels (18-1-1, 11 KOs) in a 10 rounder for the vacant IBF and WBA middleweight championship at the Masonic Temple in Detroit Michigan.
What makes this fight unique though is that it is a part of a stacked card featuring four women's world champions battling each other for middleweight supremacy. It will also be Shields' fifth fight since 2017 and she is dropping down to middleweight to capture another title in three different weight classes.
Shields owns the WBC and IBF super middleweight straps while Gabriel is the reigning WBA and WBO super middleweight champion. The winner gets a crack at the winner of WBC and WBO middleweight champion Christina Hammer vs. Tori Nelson for middleweight supremacy.
Pictures of the two champions seen smiling and hugging each other at the end of Gabriel's final workout, belies the serious nature of Friday's encounter.
Shields: We have respect for each other 
"There's mutual respect until Friday," Shields said. "And even after Friday, if you wanna go out to the club and you wanna talk about what happened, you wanna laugh, I don't mind doing that. But Thursday, that's when I get really mean. Friday, that's the fight."
Boxing sensation Shields, 23, is the A-side of this bout given her Olympic pedigree, talent and surging marketability. Her Costa Rican co-star Gabriels is much older at age 35 but has more championship experience.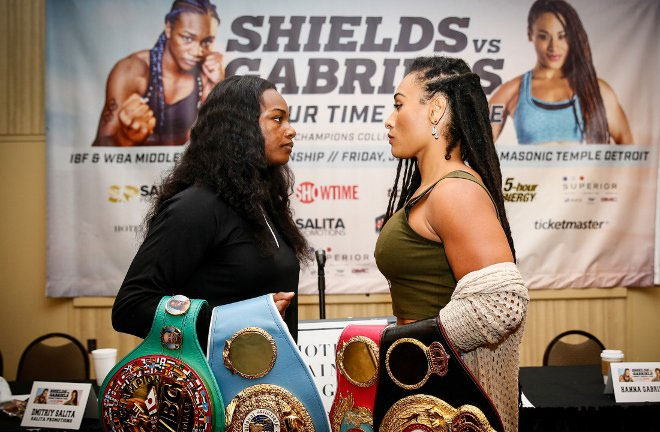 However, Shields' popularity has mostly shaped this interesting night of championship boxing and it will be the largest stage that Gabriels has fought on her entire career.
Shields fights with real intensity 
Shields, who also goes by the nickname T-Rex, fights with an intensity rarely seen in high-level boxing. She fights at a furious pace but still manages to put accurate combinations together.
Her fights as a pro have all been lop-sided, where the Flint native has displayed her prodigious output and ability to connect on power punches at a staggering percentage while avoiding return fire from her opponents.
Last time out, Shields retained her super middleweight titles with a unanimous decision win over 40-year old Tori Nelson. The victory partially underscored Shields' utter dominance as she used her superior quickness, crispier punches and defensive prowess to shut out Nelson.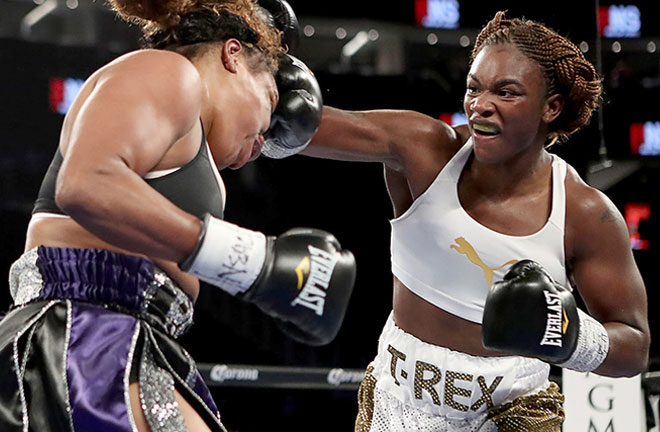 Gabriels enters this bout having won each of her last five fights that includes an October win over Oxandia Castillo. She is the smaller fighter of the two and will be moving up to middleweight for the first time since turning pro 11 years ago.
Her lone career defeat came back in 2013 at the hands of the aforementioned Castillo via second round knockout, which she has since avenged.
A three-time world champion, Gabriels is by far the most experienced and decorated opponent that Shields has faced to date. She will not be intimidated by Shields' obvious star power but understands the significance of the moment and will be coming to win Friday night.
Gabriels: I can't wait to showcase my skills 
"I'm really excited and grateful to have the opportunity to showcase my skills against Claressa Shields on Showtime," said Gabriels. "This will be a great battle of two world champions, a great night for my country, and a great fight for women's boxing. I only know one thing – the woman in front of me will lose. I take nothing away from Claressa's accomplishments, but on June 22 she is facing a three-time world champion and I will take the 'o' in her record and prove I am the best pound-for-pound fighter in the world."
Gabriels is a respectable world champion with good movement and a strong right hand. This pairing also has the makings of a good fight on paper.
Unfortunately, for the veteran, Shields' lack of championship experience is not really going to matter here. Gabriels simply does not have the aggression, explosiveness or work rate to match her formidable foe.
Fighters like T-Rex have a sixth sense for these kind of things and she will begin to impose her will upon the smaller Gabriels as the fight wears on.
Comments
comments