Former world champion Ivana Habazin faces a seemingly impossible task when she faces two-division world title-holder Claressa Shields for the vacant WBO junior middleweight strap this Saturday in Shields' hometown of Flint, Michigan.
Habazin (20-3, 7 KOs) and Shields (9-0, 2 KOs) were originally scheduled to fight on August 17. However, Shields suffered a knee injury postponing the match-up.
That development triggered a war-of-words between the fighters as they traded insults over social media. Habazin accused Shields of pulling out of the fight due to being overweight instead of injured. The vocal champion fired back denying the claim and promising to slap Habazin at the weigh-in.
Tale of the Tape
Habazin, is an accomplished two divisional champion. She captured the vacant IBF middleweight title with a victory over Elene Sikmashvili, in March 2018. After one successful defense, she moved down to super welterweight.
The Croatian fighter briefly held a title back in 2014, winning the vacant IBF welterweight strap over Sabrina Giuliani in Belgium, but was shut out over 10 rounds by Cecilia Braekhus five months later.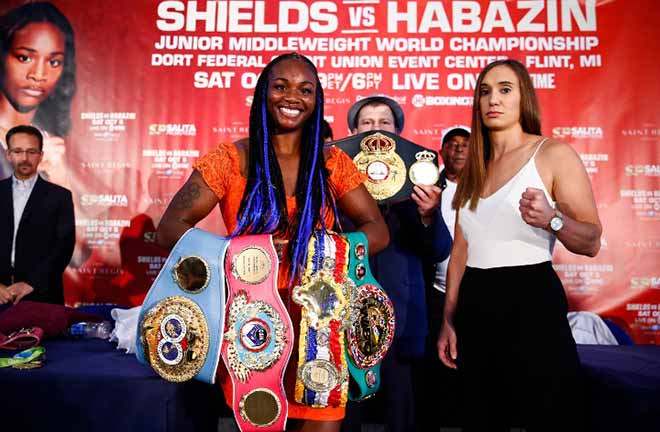 She later lost to Mikaela Lauren via TKO in the 3rd round in 2016. She has since strung together a five-fight win streak although it has come against relatively weak opposition.
Habazin enters this fight as a sizable underdog to the overwhelming favorite Shields but has single-handedly sparked interest in the match through her tweets questioning the champion's conditioning.
Claressa hardly needs an introduction as the face of women's boxing and a media darling from the time she entered the pro ranks following a distinguished amateur career.
The two-time Olympic gold medalist defeated long-reigning German champion Christina Hammer in dominating fashion in April to become only the second woman to win all the major world titles in one division in the four-belt era. The other is reigning undisputed women's welterweight champion Cecilia Braekhus, whom Shields is moving down in weight to ultimately face in a legacy fight for both women.
Shields has also defeated other notable fighters in Hanna Gabriels and Tori Nelson in similar dominating fashion. She suffered a 1st round knockdown against Gabriels but showed true grit in storming back to sweep the remaining rounds.
Habazin will attempt to pull off another upset in an opponent's hometown like she did in Belgium back in 2014. However, the Croatian concedes the difficulty of repeating that feat in Shields' backyard.
"It's going to be tough in her hometown to beat her on points, so I'm coming here to knock her out," Habazin said.
Shields scoffed at that prediction.
"I appreciate Ivana for wanting this challenge, but she's acting crazy talking about knocking me out," Shields said. "She's going to be in defense mode I think. I've seen how she fights. If she thinks she's going to stand there blow for blow with me, she's crazy. She has good movement and hand speed, but she has a lot of flaws."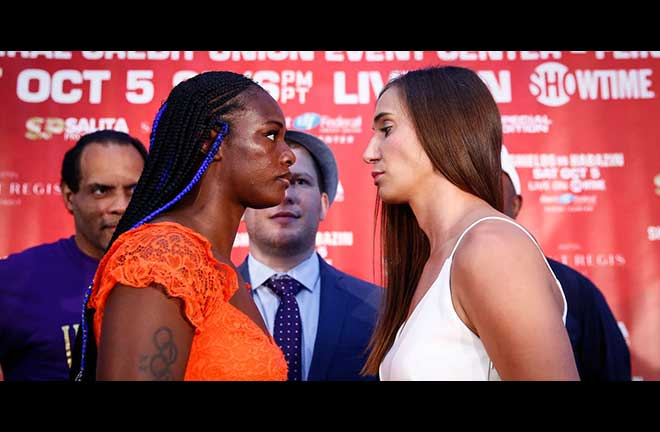 Prediction
A Shields victory would give her a world title in a third weight class in only her 10th pro fight, which would be the fastest to reach that mark for either male or female. Habazian is a quality opponent with fast hands but she's never faced someone as skilled and talented as Claressa. This fight feels like a dress rehearsal for the historic match that many want to see between Shields and Braekhus. The growing consensus here is that 'T-rex' will use the unprovoked needling from Habazian via social media to punish her opponent on October 5. Such drama usually creates exciting fights but there will likely be a hefty price to pay.
Verdict: Shields by near shutout via unanimous decision.
Comments
comments