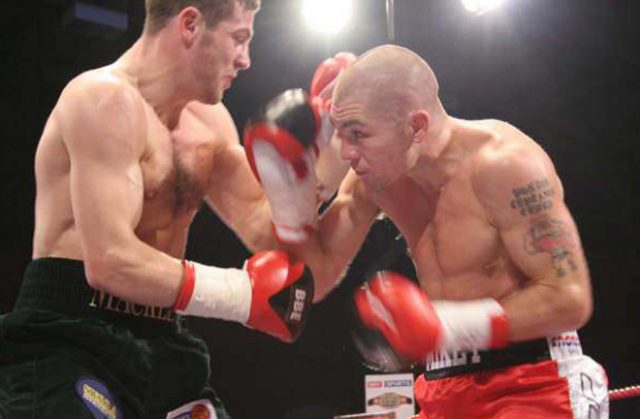 In another UK classic, I take a look at a domestic war from 2006 that is rightly considered as one of the greatest fights on British shores.
Jamie Moore v Matthew Macklin – 29th September 2006, George Carnall Leisure Centre, Manchester – British Super Welterweight Title
Birmingham's Matthew Macklin had turned professional in November 2001, with a one round knockout of the previously undefeated Ram Singh in Glasgow, this coming after a solid amateur career.
Macklin, born in Birmingham to Irish parents from Roscommon and Tipperary respectively, would win the Senior ABA Title in the same year he turned pro and arrived on the paid scene with a decent reputation, under the promotion of Frank Warren.
Macklin's progress was serene, against a raft of continental opposition and in his tenth fight the decision was made to step the Midlander up to title level, with the inaugural English Super Welterweight belt the prize in Dagenham in November 2003 against the gangly and awkward Wincobank Gym product, Andrew Facey.
Wolverhampton native Facey had already had two defeats and a draw on his slate, but didn't read the script at the Goresbrook Leisure Centre, and handed Macklin his first defeat in a razor thin 96-95 verdict in a scrappy affair.
Macklin rebuilt though, and won eight straight fights, seven by knockout, which catapulted him to challenger for the British title.
Waiting for him in his quest for the coveted Lonsdale Belt was Salford's Jamie Moore, who, up to his 2006 meeting with Macklin, had won, lost and regained the title in dramatic fashion.
A pro since 1999, Moore went 12 unbeaten until he was stopped by Scott Dixon in a thriller in July 2001. Five fights later though, he was British and Commonwealth champion, widely outscoring Michael Jones for the belts.
16 days after Macklin lost to Andrew Facey, Moore stopped Facey in seven rounds, but 2004 would prove to be a rough one for "Mooresy."
First, he lost his Commonwealth title, knocked out in three by Ossie Duran and then his British belt was lost via controversial disqualification, when hitting old foe Michael Jones on the break.
Moore would gain instant revenge in a sixth round stoppage win in the trilogy match and would win three more times, with one more British title defence, before signing to meet Macklin.
The domestic dust-up was set for September 2006, with the modest George Carnall Leisure Centre in Manchester the setting.
Macklin would begin as the betting favourite, with Moore already having been involved in some career limiting wars, but the champion was never going to give up his hard-earned belt without a fight.
The contest had extra spice with both men's Irish connections, with Moore also a descendent of Irish heritage and the scene was set for a no quarter given-type battle.
Few could have imagined the lengths that both men would go to in order to get their hands on the coveted silverware.
What followed was ten rounds of beautiful brutality, a fight that would leave all inside the small Leisure Centre that night with open mouths at the drama that they had seen.
You can catch all the drama for yourself here:
Comments
comments