With highly deadly venom, a Cobra is known for its decisive and quick movements at the moment of an attack. For trainer Victor Godoy, his most successful pupil, Tijuana light flyweight Javier "Cobra" Mendoza, possesses the traits to carry the name.
"My trainer gave me the name," Mendoza says with a smile as if he remembered the moment he first heard it. "He says I am very precise with my punches, like a cobra."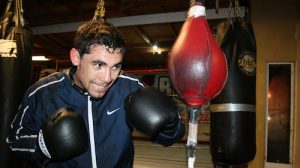 The WBC #7 ranked southpaw Mendoza (15-2-1, 12KOs) is ready to show those skills this Saturday night, February 11th, when he takes on the experienced Armando "Chiquita" Vazquez (20-7, 4KOs) in the second defense of his WBC Continental Americas strap. The twelve round tilt will be the co-main event of Box Latino's "Sangre y Patria" event slated for the Tijuana Municipal Auditorium. The bout will be televised live by Mexico's biggest network, Televisa, as part of their weekly boxing series "Sabados de Corona".
Mendoza is part of Erik Morales' Box Latino stable and is looking to leave his mark in this his first fight of 2012 in hopes of earning a world title later this year.
"We are working with 'Pelucho" Morales and Box Latino," Mendoza stated mentioning Diego Morales, Box Latino's matchmaker and Erik's younger brother. "Pelucho", as he is known, was a champion in his own right in the super flyweight division. "Now we have been fighting more consistently. 'Pelucho' has mentioned there is another title opportunity in the works. We are ready for a world title, we are ranked #7 by the WBC and we think that in maybe two or three fights and we get a world title opportunity."
First Mendoza must get past the experienced Vazquez, a fighter "Cobra" is no stranger of. "I have seen him fight and he is a tough, durable and brave fighter. He's always going forward. He throws very good combinations, good punches and he has fought some good fighters. He is going to be a tough fighter but based in our preparation, we have what it takes to beat him. We even dare to say that we will knock him out."
One thing you can expect from Mendoza is that he will be the first to strike, as he is known to go after his prey at the first sign of blood or of paid in his opponent.
"Fans can expect an explosive fight, a back and forth fight," Mendoza said confidently of the scheduled twelve round sure to be war. "We are going to box him and we are going to be versatile. When we have him, we are going to knock him out. That is what I can say; we are going to knock him out."