With the Manny Pacquiao train heading into the sunset for now, us boxing fans were left with a bitter taste in our mouths as Shane Mosley's constant retreating led to what was essentially an action-less, boring fight.  Unfortunately MMA fans didn't get it any better with their recent "Big Fight" pay per view as George St. Pierre's safety first style also led to a lackluster main event.  While neither main event delivered the drama or action we hoped, were both PPV's considered disappointments by their respective fans and companies?  Let's compare the recent boxing and UFC big event PPVs and take a closer look.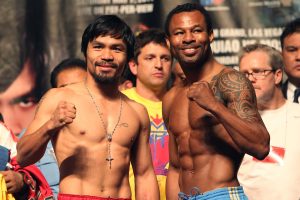 Promotion:  Both promotions leading up to the fight were quite expansive, but considering Pacquiao-Mosley had CBS backing them, they probably had more reach.  Pacquio-Mosley was showcased with Fight Camp 360, and two of those episodes debuted on CBS, one of them as a lead in for the NCAA Final Four Tournament. Basically the promotion centered around Pacquiao, he's fighting another legendary fighter so don't miss it.  The UFC had a little bit more to work with as far as drama surrounding the main event, Jake Shields was essentially undefeated for the last 10 years, had wins against notable names and could be built into a credible challenger, something that was hard to do for Mosley.
UFC had their own promotional show called UFC Primetime which had The Ultimate Fighter as a lead in.  All in all, both promotions were done very well, and considering what Top Rank had to work with in the Pacquiao-Mosley fight, they did enough to create curiosity and excitement to see Pacquiao fight.  UFC succeeded in selling Jake Shields as a real threat to the great Georges St. Pierre thus having the drama angle for the PPV.
Sales:  To compare actual revenue from both Pacquiao-Mosley vs. UFC 129 side by side would be unfair.  To actually compare, one has to put the numbers in perspective according to their promotions.  Pacquiao fights usually generate around 1-1.2 million PPV buys, with the attendance, unless its at the Dallas Cowboy Stadium, usually selling out a 16-17,000 seat arena.  The Pacquiao-Mosley fight delivered exactly that, a gate of around 16,000 people and its 1.2 PPV buys, so in essence it was a success, given that Mosley wasn't considered as a viable challenger.  UFC built its UFC 129 event as the promotions biggest event ever, as it technically was, drawing a gate of close to 55,000 people, abd that's around the same number Pacquiao did when he fought at the Cowboy's Stadium.  While the gate was an impressive one, the PPV buys remained constant to what a St. Pierre fight usually does, 800,000 – 900,000 buys.  Even though Shields was a better challenge for St. Pierre, a fighter like Josh Koscheck was able to sell the same because of his persona.
Undercard: The Pacquiao-Mosley undercard was lacking of any big fights, but there was certainly some entertainment, with Wilfredo Vazquez Jr. vs. Jorge Arce being a very good scrap. The UFC on the other hand is known for having complete shows, very good fights from the beginning, and this undercard was no exception with Randy Couture vs. Lyoto Machida and Jose Aldo vs. Mark Hominick. With the Pacquiao-Mosley undercard, we saw the return of Kelly Pavlik and battle of a very good up and comer vs. another very good all action veteran.  Both of these fights turned into very close wars, with Pavlik and Arce pulling out close victories.  Both undercards in both PPV's showed the drama, action and heart that the main events lacked, but only the UFC had truly high profile bouts in support of the feature.
Significance:  The significance of these fights was similar, both Pacquiao and St. Pierre are at the top of their sport's pound for pound rankings.  After their dominating performances, they each also have to face the question of when are they gonna face their pound for pound partners in Anderson Silva and Floyd Mayweather.  Given that St. Pierre and Silva are both under the UFC banner, it seems like that fight is imminent, while the Pacquiao-Mayweather fight is light years away.  With these fights, St. Pierre much like Pacquiao, has seemingly run out of other credible opponents to face.
It's fair to say that while both pay per views were a success for their respective companies, they also weren't.  Top Rank was warned by fans, reporters and everyone in the boxing business that Mosley was not a credible challenger for Pacquiao, he was old, and a shell of what he once was.  The best case scenario for that fight was that he'll be competitive for at least 3 or 4 rounds before fading and getting dominated, unfortunately what they got was a worst case scenario where he didn't even want to engage Pacquiao for fear of getting knocked out.  Top Rank now has to redeem themselves by getting Pacquiao in a good, competitive match, and it seems that's where they're heading with a possible November showdown with Juan Manuel Marquez.
The St. Pierre-Shields fight was another type of disappointment, both fighters were game, and showed more interest than the combatants in the Pacquiao-Mosley fight.  The disappointment would come in the form of St. Pierre's safety first style, where he dominated Shields but couldn't close the show.  MMA fans were treated to another one sided, undramatic St. Pierre victory, he even apologized to the fans after the fight.
Indeed it was a very disappointing few weeks for fight fans in general, considering the string of good fights we've had in both sports leading up to these two "Big Fights".  The silver lining here could be that maybe Top Rank has finally learned that you just cant put anyone against Pacquiao and expect a good and intriguing fight, one that's worth $50, and actually try and look for intriguing fights for the Pacman [although with 1.2 million PPVs sold, that lesson wouldn't be very clear].  The UFC maybe has learned from the disaster of Pacquiao-Mayweather in boxing, and will try to put their two best fighters in the Octagon, Silva and GSP, sooner than later.  If both of these companies take the necessary steps to redeem themselves, then maybe the year in boxing and MMA has all but just begun.