"Every time I get into the ring I try to make a statement." — Paul Williams
"I'm defending my house and I've got thieves trying to break in." — Tavoris Cloud
The four fighters who will compete in 12-round bouts on Showtime on Saturday, Feb. 18, live at American Bank Center Arena in Corpus Christi, Texas, and their respective promoters took part in a national media conference call on Wednesday.
In the main event, former world champion, southpaw Paul Williams (40-2, 27 KOs), of Aiken, S.C., will fight for the first time since taking a majority decision over Erislandy Lara last July 9 when he meets Nobuhiro Ishida (24-6-2, 9 KOs) of Osaka, Japan. Ishida has won his last two bouts via first-round stoppage, including an upset over then-undefeated James Kirkland in April of 2011.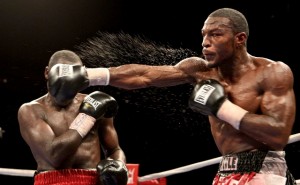 Unbeaten Tavoris Cloud (24-0, 19 KOs), of Tallahassee, Fla., will risk his International Boxing Federation (IBF) 175-pound crown for a third time when he faces Gabriel Campillo (21-3-1, 8 KOs) of Madrid, Spain.
Preliminary bouts will be televised LIVE on SHOWTIME EXTREME at 8 p.m. ET/PT (delayed on the West Coast).
PAUL WILLIAMS:
"I'm excited to be given this opportunity and to be able to prove myself again. I love that because it's just more motivation and that come Feb. 18 I'm going to put on a helluva show for my fans and the people who aren't my fans."
How long did it take you to get back in the gym after what happened in the Lara fight?
"Really about two weeks. A fight is a fight and after that Lara fight I would have liked to have been coming off a big knockout and got right back to the gym and stuff but for me it was same old, same old. Like clock-work."
How did you feel after the judges in the Lara fight had been suspended by the New Jersey Commission because they felt like they had done a bad job with the scoring?
"I thought that was bull crap. It's not like the judges were off by more than one point. It was one point. Why would they want to make a big deal about that? I thought that was bull crap.
"I have no reason to fight (Lara) again. He didn't get any fame and glory for winning that fight. All he got is me having a bad night. That's about it. If he had gone out and gotten a title then I would definitely like to fight him again."
Has it been your plan to be inactive for so long since your last fight?
"It's not us. We always want to fight. It's finding the right opponent to say yes. A lot of times we don't know who we are going to fight until the last month or the last couple of weeks."
Is Ishida as good as advertised?
"(Against Kirkland) that was his night. You can't fault anybody for coming in there like he did and he won and he knocked him out. I have to give him his props for that. He did what not a lot of guys have been able to do. Coming up on this fight on the 18 I know he's in the best shape and he's going to try and go out and repeat that again.
"I'm going to show my fans that I'm not done. They will always try and write you off but I will show them that I'm not done.
"Every time I get into the ring I try and make a statement."
NOBUHIRO ISHIDA:
"Thank you for the opportunity to fight this fight. I appreciate it very much.
"Paul Williams will fight anyone and I thank him for that.
What is your assessment of Paul Williams?
"I think Paul Williams has a good chin and has a lot of power and is one of the top fighters in the world.
"I didn't expect to get a knockout against Kirkland. You never really expect that. I'm not sure about a knockout against Paul Williams, but I think I will get the win. I'm going to make it a very long night for Paul Williams."
TAVORIS CLOUD:
"This fight will be a defense of my IBF title. Come Feb. 18 I will have been in camp some four months so I'm in great shape and I'm ready and willing to deal with all challenges. I'm going to come and put on a great show just like I always do. There ain't going to be no ducking and dodging. I'm going to go straight to my opponent. I just hope my opponent is ready which I believe he is. On Feb. 18 I'll be there doing my thing.
"When I fight heard that (Zsolt) Erdei wasn't going to be able to fight I thought bull (crap). He didn't hurt his hand. He just doesn't want to fight. He ain't prepared to fight and he's just looking for a way out. At first I was depressed about it but I got over that. We got another fight. We got Campillo and he's stepped up to the plate and I'm glad he did. I'm just here to do my job and to take out anyone they put in front of me. I'm not going to over think the situation. My goal is to get into the ring on the 18th and do my job and then go home to my wife and kids.
"Campillo has stepped up and taken the fight. SHOWTIME stepped up and stayed true to their word and they gave us a new date. I appreciate SHOWTIME for that. I'm not thinking about the past, I'm thinking about the future. I'm just going to keep on winning fights."
Is it important to not only win this fight but look impressive doing it?
"It's always important to put a stamp on the fight because I'm a person who just believes people respect knockouts more than they respect decisions. Those are the types of fights the fans like."
Would you be in favor of a tournament-style format for your division?
"If any one could get a tournament and get every one together I would be impressed and happy to be a part of it. Maybe we do need to do a tournament like a Super Six or something like that for the light heavyweight division.
"I don't have a problem fighting southpaws. I've got the best trainer in the world. Just ring the bell. Just ring the bell.
"I just don't give a damn. I don't care how hard they train. I don't care who their trainer is. I know I've trained harder than them and my trainer is better than theirs. They are trying to come and take something that people have tried to take from me several times. It's like I'm defending my house and I've got thieves trying to break in. I've gotten pretty good at it. I can't put it into words what I plan to do to my opponent. I'm going out there to win and put on a good show."
GABRIEL CAMPILLO:
"I feel very lucky to be on a SHOWTIME fight and fighting against Tavoris Cloud. I've been training really hard and I'm ready for the fight. I've been waiting my entire life to fight a big fight like this so I will be ready.
"I'm preparing everything with my coach and trainer Pablo Sarmiento to come up with a game plan to win this fight. I'm going to show on the day of this fight how fast I am and how hard I have trained for this fight."
You are coming off a draw in your last fight, but what about your last loss to Beibut Shumenov? How difficult was it to come back to move on after that loss when a lot of people thought you won that fight?
"After that fight I was obviously very disappointed. I just tried to find the positives and to know that I put on a pretty good fight for the viewers. After that fight I never really stopped thinking that I wasn't the real champion of the world. Never.
What specifically do you think you have in your favor over Cloud that will enable you to pull off this victory?
"No. 1 is better physical condition and then more speed and quickness and then intelligence and smarts."
DAN GOOSSEN, Williams' promoter:
"Corpus Christi has always been a great fight town and we expect a great crowd out there on Feb. 18. Texas has always been a great state for our sport tand we thank Dicky Cole and all their commission.
"You look at a fighter like (Miguel) Cotto and It's really a shame that two losses in our sport and people are writing you off. Media, the experts, all these people think that you're through. Cotto as we know suffered two losses to Pacquiao and Margarito and obviously he has shown that he isn't through. I have the same impression after the Sergio Martinez and Lara fights for Paul. I heard the broadcasters halfway through the Lara fight say that Williams should retire. But I didn't see a fighter against Martinez or Lara who I thought was through. I saw a fighter that's ready to go out there and prove himself to these naysayers that believe he's still the Punisher. He's a three-division fighter the same as Cotto was. He's got two losses as Cotto and he will be back as strong as Cotto after the 18th."
ERIC GOMEZ, Vice President and Matchmaker – Golden Boy Promotions:
"For years Paul Williams has been considered one of the greatest pound for pound fighters out there. This is a big opportunity for Nobuhiro Ishida. He had a great win over James Kirkland who everyone knows is a hot fighter again and Ishida came in and knocked him out in one round. He obviously wants to repeat that again. You know, he wants to make it here in the U.S., to fight the big names and to win. He has a tall task in facing Paul Williams and it's going to be exciting.
"When Ishida beat Kirkland we went and tried to make any fight we could but nobody wanted to fight him. A lot of guys came back with he's too tall, he's difficult, he's awkward, this and that, but Paul Williams was pretty much the only guy who stepped up. I want to thank Paul Williams for coming forward and taking this fight. He's always been one of the few fighters who will fight anybody. Paul Williams does what he preaches and he was the only guy who would take this fight. We even approached Kirkland about a possible rematch and he's our own guy. Paul Williams stepped up and said, 'I want to fight Ishida. I don't care who he is or who he has beaten.'
"Ishida has never been knocked down before. This is going to be a great fight."
DON KING, Cloud's promoter:
"We are going to have a sensational show on Feb. 18. It's going to be a day that will be marked by friend and foe alike as a battle of the ages. I think Tavoris Cloud is the best light heavyweight in the world and we intend to prove that, so we are calling every one out on this night. After he diminishes this great young fighter, Gabriel Campillo, we will then move on to greatness. I was talking to Bernard Hopkins and he was saying how we should start a light heavyweight tournament and I said by all means, and that he and Tavoris can open it up.
"We take anyone and everything as quickly as possible, right after one another. We haven't been getting the TV dates and we haven't been getting the fighters we've wanted to fight because everyone is afraid to face us. So what we will do to stop that is put up a ground swell of public support and opinion that Tavoris Cloud is the best in the world, and if you don't believe that you better come and disprove that."
On the prospects of a tournament:
"I think if Tavoris goes in there and does his business there will be a public demand and public outcry for it. I think that's why we are losing and not gaining constituents because no one wants to challenge anyone and they are manipulating and maneuvering around for their own selfish and vested interests. We want to fight each and every one of them, tournament or otherwise. We want to fight Bernard Hopkins to (Jean) Pascal or whoever else is out there who has a title. We will take on whoever they consider is the best as quickly as we possibly can. A tournament would be a super attraction as to who is really the best and not just a verbalization of it.
"I would like to see him fight Bernard Hopkins if he can get Bernard. That's the best name out there and the oldest name out there."
SAMPSON LEWKOWICZ, Campillo's Promoter:
"I really appreciate that no one believes in my boxer and I think that everyone is underestimating my fighter. I will see you on the 18th and it will not be the first time that one of my fighters will come out victorious when every one in the press says that my guy has no shot. Thank you very much."