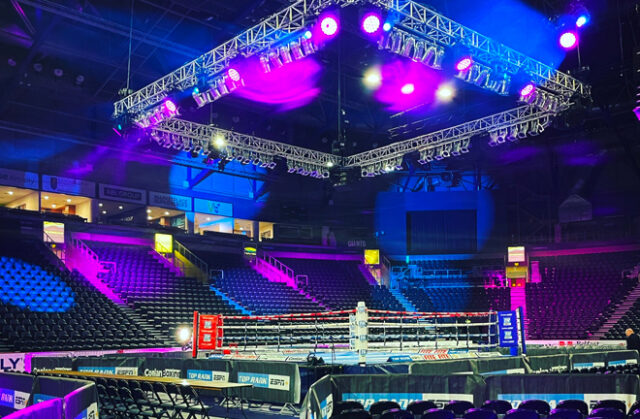 Michael Conlan continued his rebuild after his heart-breaking last round loss to Leigh Wood in March, as he crushed Karim Guerfi inside a round in their scheduled ten rounder at featherweight.
Conlan (18-1, KO9) was three minutes away from becoming world champion in Nottingham in the spring, only to have the chance cruelly ripped away, although he did return with a dominant points win over ten against Miguel Marriaga in August. Guerfi (31-7, KO9) came in as an experienced fighter, winning European titles at bantamweight and featherweight.
Guerfi did have a history of being caught cold though, and that was exactly the case here, as toward the end of the opening round, Conlan trapped the Frenchman on the ropes and unleashed a blizzard of punches that eventually chopped Guerfi down to the canvas, where the referee called the fight off mid-count.
.@MickConlan11 with a first round TKO in front of the hometown crowd in Ireland 🇮🇪 #ConlanGuerfi pic.twitter.com/KBc7JISWYK

— ESPN Ringside (@ESPNRingside) December 10, 2022
Conlan will now hope to lure Wood back into the ring for a rematch in 2023.
The undercard was threadbare due to several last minute withdrawals.
Sean McComb (15-1, KO5) claimed the vacant WBO European super lightweight title, as he won every round of ten against Hungary's Zsolt Osadan (23-1-1, KO15).
𝑺𝒆𝒂𝒏 𝑴𝒄𝑪𝒐𝒎𝒃 𝒘𝒊𝒕𝒉 𝒂 𝒑𝒖𝒏𝒄𝒉 𝒑𝒆𝒓𝒇𝒆𝒄𝒕 𝒑𝒆𝒓𝒇𝒐𝒓𝒎𝒂𝒏𝒄𝒆 𝒎𝒐𝒗𝒆𝒔 𝒕𝒐 15-1 pic.twitter.com/q50khDqabw

— Conlan Boxing (@ConlanBoxing) December 10, 2022
Padraig McCrory (15-0, KO9) wasn't at his best, but he still won all eight rounds at light heavyweight against Dmytro Fedas (8-1-2, KO5).
Padraig McCrory took a cut over the eye during the fight but his team weren't too unhappy about it – it allowed them to scrape out a hardened piece of Vaseline that had found its way in there during a previous bout. Lovely aye

— Kevin Byrne (@KevByrneBox) December 10, 2022
Kurt Walker (5-0, KO1) was another shutout winner, as he took all six frames against Yader Cardoza (26-21-1, KO8) at featherweight.
Fearghus Quinn (5-0, KO2) became the new Celtic middleweight champion, as he stopped Graham McCormack (8-2, KO1) in the fifth of their scheduled eight rounder.
Conor Quinn (4-0-1, KO3) won every round of six at flyweight against Stephen Jackson (1-28-1, KO1), and at super welterweight, Kieran Molloy (4-0, KO3) forced Alexander Zeledon (6-40-4, KO0) after the second of their six rounder.