It was not quite the emphatic ending that some had envisioned but Terence Crawford successfully retained his WBO welterweight title via TKO in the 6th round in a dominant performance against Amir Khan on Saturday night at Madison Square Garden.
Crawford (35-0, 25 KOs) swept every single round and marked up Khan (33-5, 20 KOs) before an accidental low blow to the groin compelled Khan's trainer Virgil Hill to call off the contest.
Crawford disputed the foul, but reviews clearly confirmed that it was a low blow, in fact.
It was a wholly unsatisfying ending to a highly-anticipated PPV fight as Khan tried to recover but was obviously in great discomfort. Hunter said he asked Khan if he could continue and that Khan said no.
Khan, meanwhile, said, "I was caught with a shot right below the belt. I could feel it in my stomach. I could feel it in my legs…I'm a warrior. I would never give up a fight like this. I was in pain."
That's one way to win a fight…

Juuusssttt a bit below the belt 😂#CrawfordvsKhan pic.twitter.com/sQ6oEblULZ

— The Pop 🗯 (@ThePop_Network) April 21, 2019
Well, we will have to take the Bolton man at his word, but the fight would have eventually been stopped without the pullout as Crawford was clearly breaking him (Khan) down.
Round-by-Round
Round 1 – Crawford abandoned his usual slow start, dropping Khan in the first round with a right and then opening up on him. Khan recovered but was clearly in survival mode with the champion in hot pursuit.
Round 2 – Khan resorted to jabbing in the second round but his punches were coming up short. Khan also started to mix it up with combinations but was clearing staying on the outside obviously leery of Crawford's power. The two fighters had some fantastic exchanges during this round, but Crawford landed the heavier shots.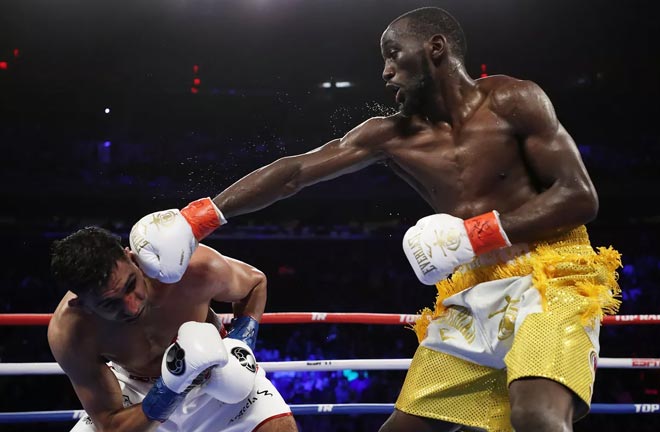 Round 3 – This was an uneventful round, but Khan was beginning to look more comfortable since that shaky first round. He landed a good 1-2 combo and found a home for the right hand.
Round 4 – "Bud" reasserts himself with a great left hook that lands and is in complete control. Punishing body shots are beginning to take their toll on Khan as he appears to have no answer to the champion's relentless attacks.
Round 5 – Khan is trying to fight back but continues to take punishing body shots. Crawford then mixes it up with a left-right combo that lands flush to Khan's face followed by a nice uppercut for good measure.
Round 6 – Crawford hits Khan with the fateful low blow, as the ref gives him time to recover. However, Khan is claiming that he cannot continue, and the fight is over just like that.
After the disappointing win, Crawford wasted no time calling out IBF welterweight champion Errol Spence Jr. (25-0, 21 KOs) for a unification fight.
"The fight I want next is Errol Spence. Whenever he is ready, he can come and get it." It won't be an easy fight to make considering the rift between the two promoters.
The future is much more uncertain for Khan, who has probably just seen his last title shot slip away. He was a huge underdog from the beginning, but you got the distinct feeling that the British fighter had no chance of winning from the first round onward.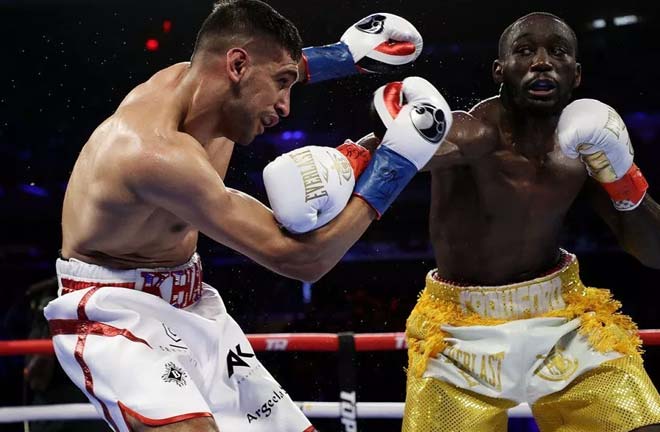 It's a far cry from his USA debut nine years ago at the same venue where he dazzled and destroyed Paulie Malignaggi. A lucrative non-title fight might still await Khan against domestic rival Kell Brook (38-2, 26 KOs), who watched at ringside and accused him of quitting.
Khan has of course denied that he quit against Crawford.
Khan axed talks with Brook last year in favour of fighting Crawford but could very well hang up the gloves for good after being thoroughly outclassed in every department.
No matter what Khan decides, he will always be remembered for his willingness to fight anyone and make no excuses.