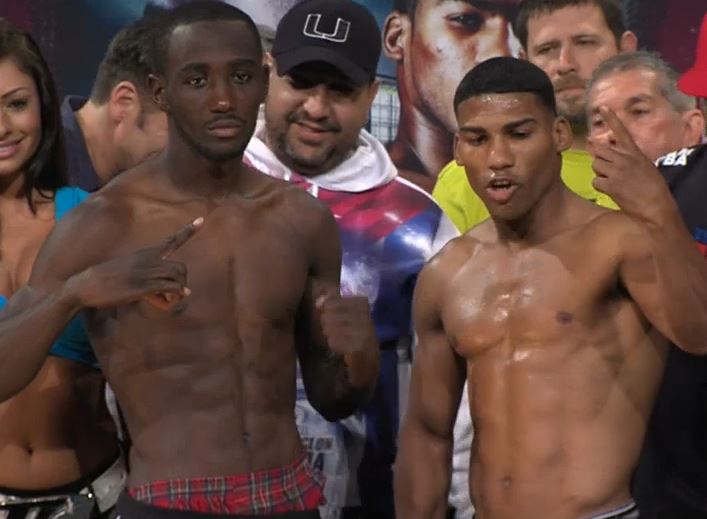 The Terence Crawford vs. Yuriorkis Gamboa weigh-in was held this afternoon in Omaha, Nebraska, in advance of Saturday night's HBO Boxing doubleheader, which also features Matt Korobov vs. Jose Uzcategui.
Right here, you can find the full Crawford vs. Gamboa weigh-in results, with photos of the fighters on the scales, analysis of what went down, and more. Take a look.
Crawford vs. Gamboa Weigh-in Photos
Crawford vs. Gamboa Weights
Terence Crawford: 134.8 lbs
Yuriorkis Gamboa: 134.4 lbs
Crawford has stated that this is likely his last fight at lightweight, and he has said it has been difficult to make 135 lbs. So there was some room for doubt on whether he'd come in under the limit, and whether he would look drained from the effort.
He was able to make the lightweight limit on his first try though, and then he quickly hopped off the scales and commenced rehydrating. Crawford and Gamboa had an intense staredown, looking at each other from inches away, without any jawing or yapping, just intensity and focus and bad intentions.
Crawford of course has the height and reach, and skill, on his side, while Gamboa has the explosive athleticism and power on his. Each man is absolutely cut and looks to be in great condition, and it should be an exciting match between these two.
Matt Korobov: 160 lbs
Jose Uzcategui: 160 lbs
—
Thanks for stopping by for our coverage of the Crawford-Gamboa weigh-in, and be sure to come back on Saturday night for our post-fight updates including the aftermath of the Crawford vs. Gamboa results.