In one of the more anticipated clashes of 2019, undefeated and defending WBO welterweight champion Terence Crawford (34-0, 25 KOs) takes on former world champion Amir Khan (33-4, 20 KOs) at Madison Square Garden in New York on April 20th. This matchup has been in the making for a while and it will be interesting to see if fans truly get a competitive fight here.
Smoke and Mirrors
The trouble with Terence Crawford is that we really don't know how good he is despite his lofty pound-for-pound standing. You see part of the problem lies in the guys he has beaten. Khan will be the first high profile opponent that Bud has faced though he does not figure to represent his greatest test.
Crawford's most notable wins have come against Julius Indongo, Viktor Postol, Jeff Horn and more recently Jose Benavidez Jr. Crawford was a heavy favourite against all of them and used his switch-hitting style and penchant for making mid-fight adjustments to turn each opponent back. These are good fighters but many of them lacked world championship pedigree but were still thrust into title fights with predictable results.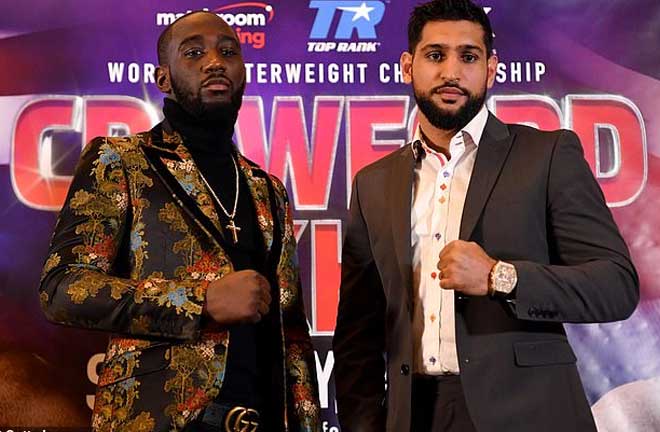 Benavidez had the most success against the Nebraskan as Crawford encountered early problems with the height and talent of his opponent. Benavidez made Crawford miss with the jab while managing to land a few of his own and consistently tagged the champion with sharp counters. Of course, Jose's showboating finally caught up with him when he was dropped by that uppercut from hell that spelled the end of the fight in the 12th and final round after leaving his hands dangerously below his waist.
In sum, Crawford has always looked good against B-level fighters, but the current 147-pound landscape is filled with quality fighters. Errol Spence Jr., Keith Thurman, Shawn Porter, and Danny Garcia are all dangerous opponents that would give Crawford a much greater test than his past 34.
Top Rank's Gamble
The wisdom behind making Crawford-Khan a pay-per-view attraction must be questioned. Neither fighter has a strong following in the U.S. Khan simply has not done enough lately to be the ideal PPV opponent for Crawford at this critical stage of the champion's career.
Khan was knocked out cold by Canelo Alvarez back in 2016 in an ill-advised attempt to move up in weight to take on the Mexican superstar at a catch-weight. He took two years off from boxing to recover before returning to knockout perennial gatekeeper Phil Lo Greco in the first round. Khan then outpointed fringe contender Jesse Vargas but not before exchanging knockdowns where he was flattened by a huge right cross.
Khan's bout with Canelo racked over 500,000 PPV buys on HBO but mostly because of the Mexican star Alvarez, not Amir. Perhaps sales for Crawford-Khan will be impressive but if not, Top Rank's pockets are deep enough to absorb the loss. Arum could also move Terence's bouts back to Omaha but that would be step backwards and undo all efforts to help "Bud" cross over to mainstream.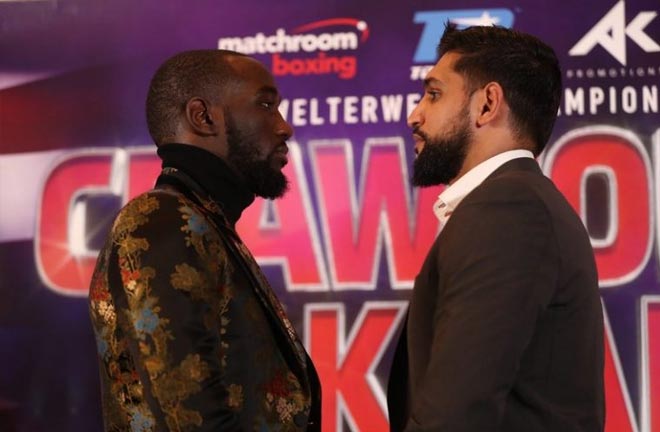 In a perfect world, it seems that Crawford and Khan should be battling other fighters instead of each other. Crawford would battle Shawn Porter and/or Danny Garcia on the road to Spence and division domination. Khan, meanwhile, would collide with domestic rival Kell Brook in a sold out Wembley Stadium. However, the boxing world is not perfect (far from it) and often leaves one scratching their head with fights marketed as the "best available" option when they are not.
Three Keys to Victory
How much does Khan have left in the tank? – Khan is 4-1 in his last 5 fights. His last defeat, as mentioned above, was a brutal sixth round KO to Canelo in 2016. He was clearly out of his depth at that weight and succumbed to the withering power of the Mexican superstar. The monstrous right hand that felled him was a devastating blow that would have taken bigger fighters out, catching Khan flush on the chin and crashing his head hard on the canvas. The hand speed that the Brit is most known for is still there but he is continuously plagued by a questionable chin. Also, his footwork against Vargas was far from impressive although this could have been because of ring rust. Against Crawford, there will be no room for error so it is imperative that he comes in at 100%.
Stick and Move – Both fighters rely to some extent upon constant movement to evade punches while delivering their own. Crawford is equally adept at standing in the pocket and trading punches but usually does so only when he has the upper hand. No one believes that Khan will outbox Crawford but the Bolton man could find opportunities to land those quick right hands over the jab by fighting from the outside. Khan still has fantastic reflexes and should also focus on connecting on clean counter punches to keep Crawford honest when he attempts to close the distance.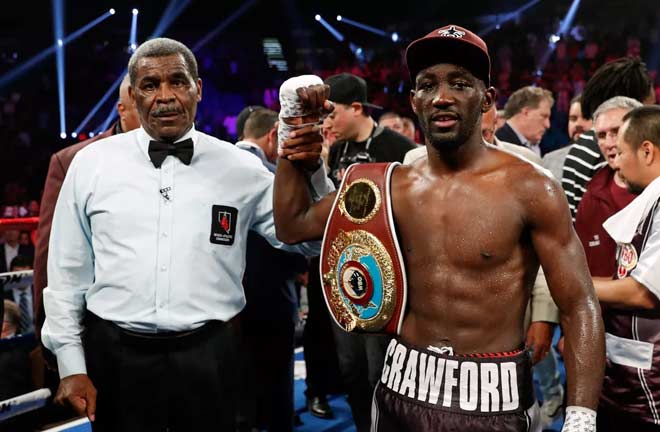 Slow Starter – Crawford appears to have improved in this area somewhat but he still has not quite shaken that reputation as a slow starter. He is sometimes there to be hit and doesn't react well when hit flush. Khan is naturally bigger, quicker, and arguably more athletic with the power and speed to buzz Crawford with something nasty. Unfortunately, Khan has often been less than the sum of his impressive physical parts and those "on paper" advantages could be completely negated by the brilliant Crawford.
Prediction
This spring fight is justifiably viewed as a collision between a man at the peak of his powers in Crawford and a faded star in Khan looking for one more hoorah. Khan peaked early in his career but appears to have settled in recent years for lining his pockets with big name fights and merely acting the part of the fighter he should have become. Amir has shown flashes of greatness throughout his career but most of his performances have been uneven and underwhelming. That is not going to cut it against an opponent as mean-spirited, skilled and determined as Terence. Crawford probably has some weaknesses in his vast arsenal but Khan is not the fighter to exploit them.
It will be a good competitive fight in the early going until Crawford begins to break him down and forces the stoppage after eight.