Star of David Promotions boss Dmitriy Salita is pleased and excited to announce that Junior Wright, a cruiserweight contender from Chicago, has signed a promotional deal with the company.
The 27-year-old Wright, a three-time (2006, 2008, 2009) Chicago Golden Gloves champion, came to the attention of Salita when he expertly fought Steve Bujaj on Salita's May 15 card in Brooklyn. That bout, a ten round draw while the vacant WBC International cruiserweight title was up for grabs, drew buzz for being a Fight of the Year candidate.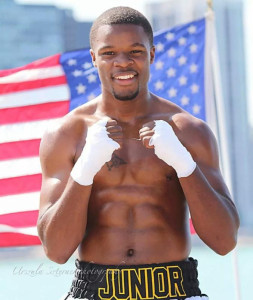 "Junior Wright is one of the best cruiserweights in the world," Salita said. "He is the kind of fighter the sport needs. From the early stages of his career he has shown the desire to fight and beat the best available fighters. His last fight was one of the best live fights I have ever seen."
Wright grew up in a Chicago neighborhood where involvement in gangs could have taken him to a dark place. Instead, he found boxing, and is looking forward to the push that promoter Salita will give him.
"I am very proud to be American, for the opportunities that came my way as a result of my hard work and dedication," Wright said after signing the deal with Salita. "The great city of Chicago was home to our President, Barack Obama, and I am very inspired by that and want to bring the cruiserweight title to America."
Currently, the cruiserweight titles are wrapped around the waists of a Pole, a Russian, a Serb, and a Cuban-born boxer. Wright, who won the USA Midwest Regional Championship in 2010, promises to bring some cruiserweight buzz back to the US.
"Junior wants to fight all the champions, like WBA champ Denis Lebedev, WBO champ Marco Huck and WBC champ Krzysztof Wlodarczyk," Salita said. "The plan is to get him a title shot, and let him work his magic."
Trained by Rick Wilson and managed by Steve Clemente, the fighter nicknamed "Hurricane" owns a 10-0-1 record, with 9 KO's. A rematch with Bujaj, probably will be on premium network in order to give this duo the viewing audience they deserve, could well be in the cards, Salita said. Wright's volume punching, rock-solid grasp of basics, above-average stamina, and fighting spirit won him a theater-full of new fans on the most recent Salita show, and that includes rooters for the New Yorker
Bujaj, all of whom applauded the Illinois boxer after the bell rang to end the fierce tussle.
Wright now has a reputation for besmirching the records of heralded fighters. Bujaj came to the ring with a 12-0 mark and Wright saddled him with a split draw. Back on August 16, 2013, Wright defeated 12-0-1 Nick Kisner, in Chicago. Salita expects that trend to continue from his newest acquisition..
Please check the Star of David website Salitapromotions.com for information on the next fight for Wright, and the other hitters on the growing roster, including heavyweight Jarrell "Big Baby" Miller, middleweight Steven Martinez and junior welterweight Dimash Niyazov.