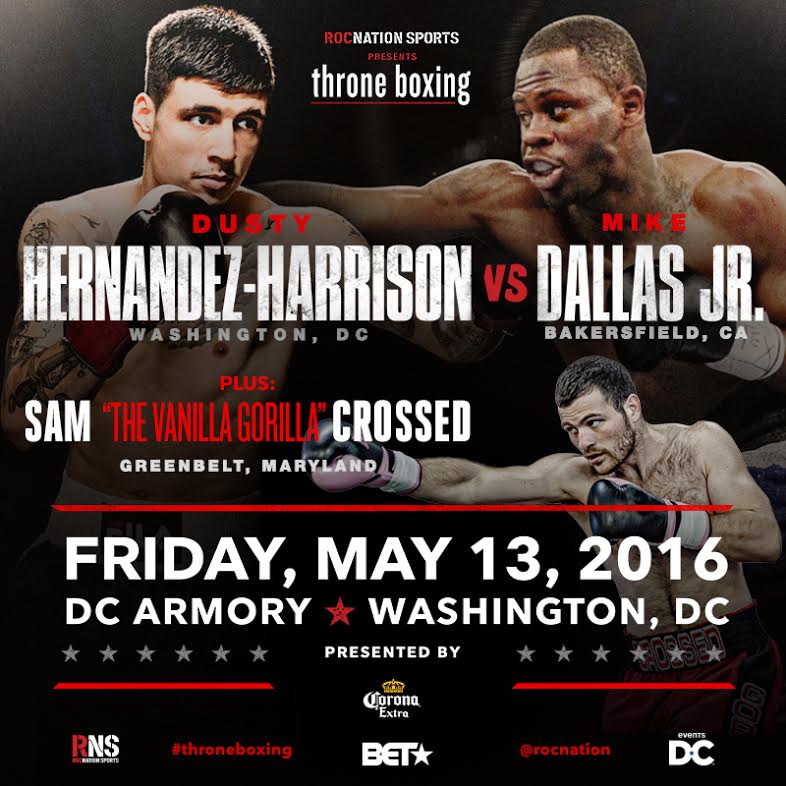 Cruiserweight Sam "The Vanilla Gorilla" Crossed (2-0, 1 KO) of Greenbelt, MD, will be stepping back into the squared-circle on May 13 at the DC Armory in a four round bout on the undercard of the BET televised event headlined by D.C. native Dusty Hernandez-Harrison (29-0, 16 KOs) against California's Mike "The Silent Assassin" Dallas Jr. (21-3-1, 10 KOs).
This will be the third fight for Crossed since making his pro debut on December 4, 2015 in front of a throng of his supporters, a bout in which he scored a first round TKO against John Felty.
On the Sunday before his second bout on February 27, in front of a sold-out crowd at Walter E. Washington Convention Center in downtown Washington, D.C., Crossed was hospitalized with a stomach virus that landed him in the ICU for two days. Against the advice of his doctors and management he went through with the scheduled match up. The fighter known as the Vanilla Gorilla went on to win a dominant four round decision over crafty veteran Martez Williamson.
"I sold a ton of tickets, not including all the people I knew would buy them at the door, so I didn't want to let my fans down," Crossed said. "I felt terrible in the ring that night, I just had to gut it out."
"Honestly fights like that are what I am going to need to develop as a fighter. I would have loved to get a knockout, but knowing I could go the distance facing that kind of adversity told me a lot about myself as a fighter."
Crossed is quickly becoming a powerhouse ticket seller in the Washington, D.C., region partially for the notoriety he gained by starring opposite Mike Tyson in a local Super Bowl commercial, but more so for his fan-friendly style and devastating power.
"It's pretty funny people see me now and say – aren't you the Vanilla Gorilla?" Crossed said. "It's been a kind of a surreal experience since I am just a regular blue-collar guy."
Working as a mechanic during the day and as bartender at night, Crossed still finds the time to train six days a week in addition to his grueling schedule.
"I didn't have huge amateur background like a lot of fighters in D.C. so I just need to work twice as hard both inside and outside of the ring to reach my goals."