"Dangerous" Dyah Ali Davis kicks-off 2012 vs. Alfonso Lopez on ESPN Friday Night Fights season opener; No. 9 rated super middleweight headlines Friday night's show in Key West
World-rated super middleweight contender "Dangerous" Dyah Ali Davis (20-2-1, 9 KOs) headlines against Alfonso "The Tiger" Lopez (22-1, 17 KOs) in this week 2012 season-opening ESPN Friday Night Fights show, held outdoors in Mallory Square in Key West, Florida.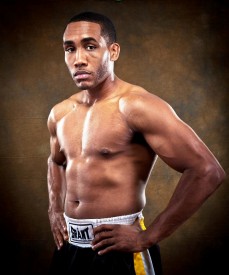 Presently rated No. 9 by the World Boxing Council ("WBC") and No. 10 by the World Boxing Association ("WBA"), Davis will not be fighting too far from his Fort Lauderdale home in the 10-round main event versus Lopez, who fights out of Cut and Shoot, Texas.
"Friday night is very important for me because it's the first ESPN show of the year and my first fight on ESPN," Davis said as he concluded training camp. "I think ESPN has an even broader range of coverage than HBO or Showtime because everybody has it. It's my coming out party. I'm looking forward to having a great 2012, so why not start things off with a great performance on a big stage?"
The son of 1976 Olympic gold medalist and Most Outstanding Boxer, Howard Davis, Jr., Dyah's signature victory of date occurred last April on ShoBox, when he won an impressive 10-round decision in Texas against previously unbeaten (20-0) and highly-ranked Marcus Johnson. Davis also has a decision win against USBA middleweight champion Osumano Adama, who was undefeated (13-0) in 2009 going into their six-round bout in Miami Beach. Adama, who recently defeated former world champion Roman Karmazin (TKO9) in an International Boxing Federation ("IBF") eliminator, is the No. 1 contender in line to fight IBF champion Daniel Geale.
Lopez' lone loss as a pro was to former world champion Kelly Pavlik, by way of a 10-round majority decision, last May in Las Vegas.
"Lopez is a good boxer who didn't have a lot of amateur fights," noted Davis, who didn't have a single amateur match. "He's a quick learner, too. He has good movement and he puts his punches together. He can make for a difficult fight with his movement, but we've been working hard to nullify that."
Dyah's head trainer the past 2 ½ years, two-time world champion John David Jackson, has been where Davis aspires to reach. "This training camp was productive and pleasant because of the addition of Mr. Craig Gibson, who worked with Dyah on strength conditioning and planning his diet," Jackson commented. "That made my job in the gym that much easier because I didn't have to worry about Dyah losing weight. He's on weight and looks great.
"The biggest improvements I've seen since working with Dyah is the confidence he has in himself. He never had an amateur background, so fighting had been like on-the-job-training for him. And he doesn't move around as much in the ring; his footwork is still there but he's executing much better, and less movement has resulted in him throwing better punches with additional power. His punches now have more impact when they hit his opponent.
"I haven't seen much of Lopez other than his fight against Pavlik, but I don't see anything special. He has decent movement and power, but doesn't have one dominant area. This fight is about Dyah. If he wins impressively for TV people watching, it should lead to bigger fights and better paydays for Dyah. The way in which he wins, spectacularly, will get him to that next level."