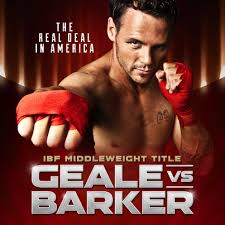 Sergio Martinez may be the top dog in the middleweight division and WBC champ, but he is starting to look long in the tooth. At the end of June, WBA champ Gennady Golovkin made a huge step forward in challenging for Martinez's crown by knocking out Matthew Macklin in three rounds. Yet there is another player in the game, namely IBF champ Daniel Geale, and he faces a confirmed contender of his own on August 17 in the form of Darren Barker.
Another aspect of this fight that will be lost to most of the crowd in Atlantic City is the UK vs. Australia angle. This fight is boxing's version of The Ashes.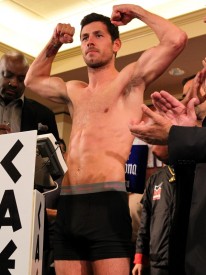 Darren Barker (25-1, 16 KOs)
6′ 0 1/2″ tall, 31 years old
British
Former Commonwealth and British Middleweight Champion, former European Middleweight Champion
"Dazzling" Darren is as solid as British middleweights come these days. After proving himself on one of the most competitive national circuits there is, an undefeated Barker challenged a prime and in his stride Martinez. He was game, but Martinez out-worked, out-sped, and out-foxed him, ultimately knocking Barker out in the 11th. The Briton has many good physical attributes, sound fundamentals and a tight defense, and if anything bad can be said about this boxer-puncher, it is that he is above average in just about all departments, but outstanding in none. That is the mark of a man destined to remain a lower-tier contender, but nothing more.
Daniel Geale (29-1, 15 KOs)
5'10" tall, 71″ reach, 32 years old
Australian
IBF Middleweight Champion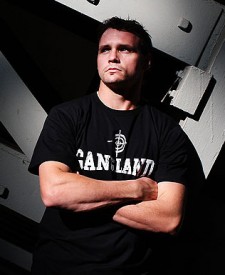 "The Real Deal" Geale is making the fifth defense of his red belt against Barker. If there was any justice or plausibility to boxing's world titles, Geale would have the black WBA strap around his waist too, instead of Gennady Golovkin. Geale won his title by taking it from Sebastian Sylvester in a bout where, predictably enough for a fight staged in Germany, one of the judges saw the one-sided whipping in favor of the guy getting whipped.
After taking the title home for some local defenses, the Australian challenged middleweight establishment Felix Sturm and finally ended that champion's long reign. On paper, the Sturm win reads split decision, but in reality Geale cleanly out-pointed Sturm. The Real Deal has also whipped national rival and fringe contender Anthony Mundine. Geale is a busy, aggressive guy with a respectable right hand.
Geale vs. Barker Analysis
In Barker, Geale is fighting a guy who is bigger, stronger, and takes a punch better. The latter is what stands out in my mind, but Geale's right is no rocket-propelled grenade, so it's hard to see The Real Deal hurting Dazzling Darren with any single punch. Geale needs to work the jab and mix up his combinations, doing the right things consistently to win a war of attrition.
The Briton's path to victory lies in mixing this fight up, and turning it into a phone booth war, maximizing his size and point defense. Both guys like to fight, but the more unpredictable that fight becomes — the more of a rollicking brawl — the more Barker's assets get to shine. If Dazzling Darren lets Geale stand a medium range and throw, he'll lose the fight.
Geale vs. Barker Prediction
Both fighters have a clear and realistic way towards winning this fight, so ultimately my view is that it comes down to which guy is of better quality. Barker is a solid talent, but nothing spectacular; Geale is merely average in some departments, but very good in others. When it comes to making the other guy playing according to your game plan, it's usually the guy with the very good tools who wins, and in this fight that is Geale.
That said, Barker has the stuff to make it hard on him, and Geale's edge isn't huge. Interestingly, Geale's game plan will rely heavily on his mobility, so as to avoid being sucked into a brawl. The Australian doesn't have the power to intimidate Barker, so keeping him at a suitable distance is entirely on the balls of Geale's feet. Barker will have his moments, and this might very well be a fight where the scorecards accurately reflect how close it was in the ring.
Prediction: Daniel Geale SD12 Darren Barker
Comments
comments