This Saturday night in the main event of the HBO-televised card hailing from the Revel Casino in Atlantic City, NJ, Daniel Geale (29-1, 15 KOs) looked to defend his IBF Middleweight title strap against British challenger "Dazzling" Darren Barker (25-1, 16 KOs). For Geale, the fight marked his debut in the United States, and the promise of big fights and events in the future if he could get past the skillful Barker, whose only previous loss came against divisional kingpin Sergio Martinez.
Which man prevailed, and how did the fight play out? Read on to see the full Geale vs. Barker results from A.C.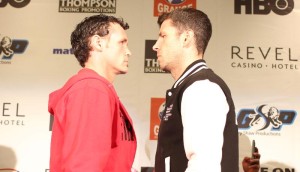 Barker Beats Geale in Thriller!
"Dazzling" Darren Barker lifted the IBF Middleweight Title with a rousing split decision over Daniel Geale. Barker overcame a knockdown and cuts to stage an inspiring performance to defeat the tough-as-nails Australian titleholder in a wonderful battle. The scores were painfully close, with Barker winning by scores of 114-113 and 116-111 (Barker), and 114-113 (Geale). Great stuff. Barker goes to 26-1 (16 KOs) with Geale slipping to 29-2 (15 KOs).
Geale, Sydney opened busily with some jabs. The taller Barker, London, also opened well, with some accurate punches to the head. Geale, 32, seemed a little quicker, but Barker, 31, began founding a home for the right hand. The opening round seemed to forecast an entertaining and evenly-matched contest.
More exchanging in the second. Barker has an awkward right that comes out of nowhere. He seemed to rattle Geale slightly in the second with series of rights and lefts. When Geale throws, he seemed to catch a right hand most of the time. Hard punching by Barker.
A little more razzle-dazzle from Geale to open the 3rd. Barker's shots seemed to pack a little extra thud. But Geale started throwing a bit more freely and when he threw, Barker clammed up. Still, Barker was nice with the jab and continued nailing Geale with the right hand, finding him rather easily. Just before the bell, Barker snapped Geale's head back with another straight right. Barker's harder shots seemed to give him an edge after three rounds.
Punishing work by Geale opened the third and for the first time, Geale seemed to affect him. Geale started digging in more. Nice uppercut by Barker. Both were winging some shots in some entertaining back-and-forth. Better 4th round for the defending IBF titleholder. Geale did a little better in the 5th with his legs, moving around the more static Barker. Geale starting landing cleanly with a big right to the body, with Barker still dangerous, but lacking some of the effervescence from the previous rounds. Still, Barker threw to the body with gusto in an excellent round of a great fight that was painfully hard to score.
More two-way action in the 6th, but Barker was getting the better of it. Then suddenly, a Geale body-blow to the liver took all the life out of Barker, who melted to the canvas like butter. He barely got up and managed to just barely convince ref Eddie Cotton to allow him to continue. Then Barker, reeling and seemingly seconds away from a defeat rallied back and hurt Geale! The 6th round was amazing and will be a sure candidate for Round of the Year. What moxie by Barker!
The 7th saw this fight unfolding as a war, with each man winging with everything they had. They took a little break, but soon the punches were again flying. It was still hard to figure out how Barker recovered from that liver shot and not only continued, but was now thriving at times, probably winning the 7th. Great action in the 8th in compelling action. Barker was amazing with his energy levels so high with the Englishman again edging the round.
The 9th saw Geale needing something to reverse the action and to his credit, he let his hands go with gusto. A right seemed to bend Barker sideways, but Barker was having none of it–retaliating with a series of rapid-fore combos to the body. Barker's stinging shots controlled the final minute, but Geale kept winging back in more frenetic action. Phew! Barker went to the body like a SOB in the 10th, with sharp shots to the head in a spirited display of heart. Geale, however, was also resolute and stood his ground. With two rounds to go, it looked like Geale needed something big.
Tired, both men let it fly in the 11th, with Barker's left eye looking rough, courtesy of repeated Geale right hands. Geale was a bit foolish in his strategy after so nearly having Barker out from body shots earlier in the fight. A concerted attack downstairs may have yielded better results, with Barker seemingly invulnerable to the Geale head shots. The 11th was like many rounds in this fight–close, but going to the sharper work of Barker.
The final round saw both men ready to come untethered, but pridefully soldiering forward. A Geale left and right seemed to stiffen Barker momentarily. Barker's legs looked bad, as Geale tried to do damage with the end nearing. Time ran out and both men raised their arms in victory. Scores were 114-113, Geale, 116-111, Barker, and 114-113 for Darren Barker, the new IBF Middleweight Champion
Martinez Smashes Romero!
In an upset, Kiko Martinez dished out a beating to Jhonatan Romero, taking the IBF Super Bantamweight Title by stopping Romero at 2:40 of the 6th round. It was a heartfelt and passionate performance for Martinez, who bulled his way to victory over the defending titlist. The Spaniard, who trains with Gabriel Sarmiento in Oxnard, was magnificent.
This one didn't take long to get cooking. Romero was wobbled badly halfway through the 1st round against the swarming Martinez. At 5'9″ he needed to be moving against the fast-starting and hard-hitting Martinez–listed at a gratuitous 5'5." The stumpy Spaniard unloaded with hooks and uppercuts to the head and body. Martinez completely dominated. A huge round for "La Sensacion."
Martinez, 27, opened the second coming after Romero, 26. Romero began moving and naturally, began doing better after a strategically-flawed first round. But Martinez, up-and-down since a 2007 first-round blastout of unbeaten Irishman Bernard Dunne, kept boring in. Romero's strategic adjustment, however, threw a different complexion on the bout, with Martinez far less effective in the second.
Romero is swift and fluid with his combinations and showed it in the third. Martinez started walking into shots with the Colombian titlist establishing a rhythm. Martinez remained steadfast and continued to bull Romero against the ropes. Nice work by Martinez to end the round, as he zeroed in on Romero with solid rights and lefts. Martinez continued his dominance from the end of the third and started pelting Martinez again with shots in the 4th. Martinez was really going for it, with Romero cut and retrieving on on tiring legs.
Nice right by Romero to open the 5th, but Martinez was still energetic and pursuing a marked-up and bleeding Romero. The body shots from Martinez were doing damage. Romero was getting walloped in the corners and against the ropes, with Martinez putting a ton of pressure. The 6th saw a still-revved up Martinez going for the gusto. Romero was fighting well off the ropes, but he needed to be at distance using his considerable height and reach advantages. Some big body shots and right hands put Romero in big trouble! Against the ropes, Martinez teed off, with Romero making a gallant stand. He was fighting back, but Romero was getting his head snapped back violently. Referee David Fields stopped the bout, with Romero getting a thrashing.
Great win for Martinez, who was thrilling tonight. He goes to 29-4 with 21 knockouts. Romero drops his first fight, going to 23-1 (12 Kos).
—-
Be sure to check back with ProBoxing-Fans.com for more post-fight updates throughout the weekend, including updates to our middleweight division rankings, and thanks for checking out our coverage of the Geale vs. Barker results.
Comments
comments