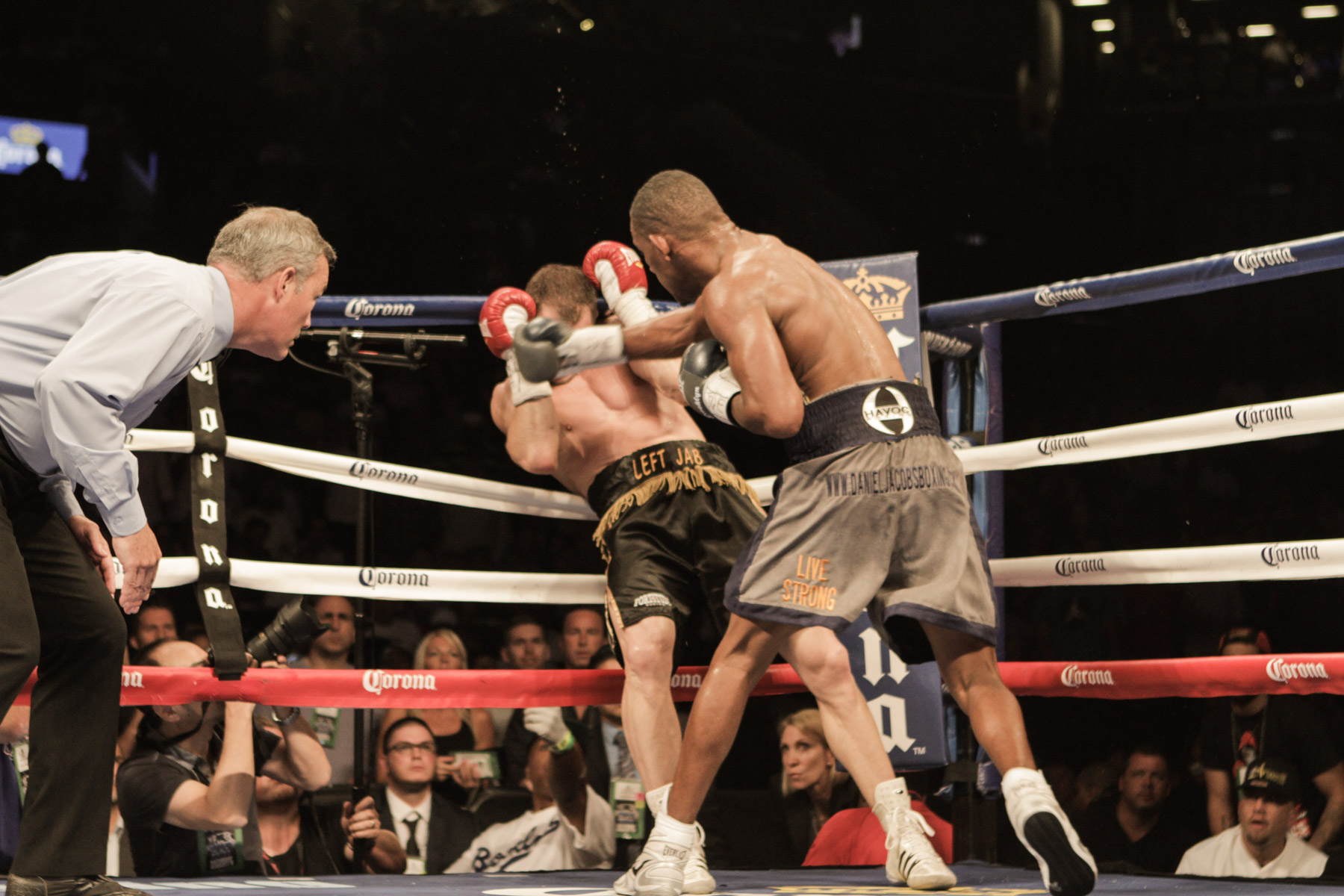 One week after Daniel Jacobs became the first cancer survivor to capture a boxing title when he knocked out Jarrod Fletcher, he will return to the network this Saturday, Aug. 16, as a guest analyst for the tripleheader live on Showtime from StubHub Center in Carson, Calif.
Jacobs will join host Brian Kenny, blow-by-blow announcer Mauro Ranallo, Hall of Fame analyst Al Bernstein and reporter Jim Gray to call a three-fight telecast headlined by a potentially explosive, high-stakes welterweight showdown between undefeated IBF Welterweight World Champion Shawn Porter (24-0-1, 15 KOs), of Akron, Ohio and fellow unbeaten British star Kell Brook (32-0, 22 KOs), of Sheffield, England.
"How cool is that? Fighting one week on one coast on SHOWTIME and then announcing the fights the very next week on SHOWTIME from the other coast,'' said Brooklyn's Jacobs, who will fill in for two-time former world champion Paulie Malignaggi, who will sit out this week with a family obligation. "I love this. I think announcing fits me. To be able to do something like this, to be in this position, is very important to me. Other fighters have done it as well, of course, but for me to be able to follow in their footsteps is an honor. It shows that we can not only announce fights, but we can be good at it.''
In the two other world championship fights on SHOWTIME, WBC Super Middleweight World Champion Sakio "The Scorpion" Bika (32-5-3, 21 KOs), of Sydney, Australia, will risk his 168-pound belt against unbeaten Anthony "The Dog'' Dirrell (26-0-1, 22 KOs), of Flint, Mich., in a rematch of their wildly exciting and controversial 12-round split draw last Dec. 7, and undefeated Omar "Panterita" Figueroa Jr. (23-0-1, 17 KOs), of Weslaco, Texas, will defend his WBC Lightweight World Championship against mandatory challenger Daniel "Tremendo" Estrada (32-2-1, 24 KOs), of Mexico City, Mex.
Jacobs will do his best to be impartial, but you know he'll be rooting for the 29-year-old Dirrell, a fellow cancer survivor determined to attain a world title in his second attempt.
"I've known Anthony since the amateurs,'' Jacobs, 27, said. "We've been friends since we were 16 or 17 years old. He had the battle first [with cancer], mine was after.''
Anthony was diagnosed with non-Hodgkin's lymphoma in Dec. 2006 and didn't return to the ring until Oct. 2008. Jacobs was diagnosed with osteosarcoma, a rare form of bone cancer that caused partial paralysis in his legs in May 2011. Miraculously, he was back fighting in Oct. 2012.
"When I had my very first charity fundraiser party Anthony attended,'' Jacobs said. "Afterward, we both discussed it and decided that we should do this together, to inspire each other, to inspire others, especially after coming back the way we did to be in the positions that we are.
"This, for me, what Anthony and I have, is absolutely like a brotherhood, a fraternity between two guys who happen to be in the same tough sport as boxing. What we have set out to accomplish is bigger than boxing, bigger than me or him. This is for the world; to be an inspiration for people to give them hope. That's what it's about, just helping to lead the way to give people hope.''
Not surprisingly Dirrell was one of the first of many to congratulate Jacobs shortly after his titanic triumph last Saturday. "We didn't talk verbally but he contacted me, I think on Instagram or Facebook,'' Jacobs said. "He said that I was an inspiration to him and that he was going to continue to keep the movement going once he gets the opportunity on Saturday.''
During the post-fight conversation, Daniel also wished the best for Dirrell against Bika. "I definitely reached out and told him I would support him,'' Jacobs (27-1, 20 KOs) said. "I wanted to let him know I was by his side and that I was planning on attending the fights on Aug. 16.
"I just didn't know at the time when we were talking that I'd be calling them, too.''