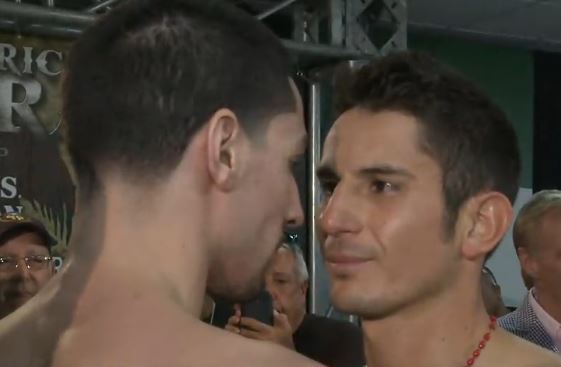 The official Danny Garcia vs. Mauricio Herrera weigh-ins were held on Friday afternoon in sunny Puerto Rico. Garcia vs. Herrera headlines a doubleheader on Showtime which also includes Deontay Wilder vs. Malik Scott. On Sho Extreme, a series of undercard match-ups takes place headlined by Juan Manuel Lopez vs. Daniel Ponce de Leon II.
Right here, you can find the complete Garcia vs. Herrera weigh-in results, and a series of photos and notes from the proceedings. Take a look.
Garcia vs. Herrera Weigh-in Photos
Garcia vs. Herrera Weights
Danny Garcia: 139.75 lbs
Mauricio Herrera: 139.25 lbs
Things got a bit heated between these two fighters and their camps at the weigh-in. There was an intense stare down, and then Garcia started talking some trash with Herrera simply smiling and shaking his head no. Eventually they were separated as the crowd went crazy. Both guys are in shape and on weight, but Garcia is noticeably larger and more muscular.
Undercard Weights
Deontay Wilder: 227 lbs
Malik Scott: 238 lbs
Scott wore a paper bag over his head at the weigh-ins, with the text "Get ya popcorn ready", a nod to Terrell Owens. Wilder and Scott have sparred, so they know each other, and Scott also measures up to Wilder physically, which provides a different twist than what we're used to. But will he be able to stand up to Wilder's power, especially after we've seen him hurt by Dereck Chisora?
Juan Manuel Lopez: 129 lbs
Daniel Ponce de Leon: 128.75 lbs
Thanks for checking out our coverage of the JuanMa Lopez vs. Ponce de Leon, Wilder vs. Scott, and Garcia vs. Herrera weigh-in results. Be sure to follow up with ProBoxing-Fans.com later in the weekend for full post-fight analysis and aftermath.