Born and raised in Framingham, Massachusetts, a suburb of Boston, light welterweight prospect Danny "Bhoy" O'Connor (20-1, 7 KOs) has always been a proud Bostonian and avid sports fan of local clubs like the Boston Red Sox, Boston Celtics, Boston Bruins, New England Patriots and New England Revolution.
On June 29th, the 28-year-old Irish-American boxer will take things a step further when he gets into the ring to fight veteran Hector Munoz (21-10-1, 14 KOs) in an eight-round fight on the non-televised portion of an HBO® triple-header card at Foxwoods® Resort Casino in Mashantucket, Connecticut.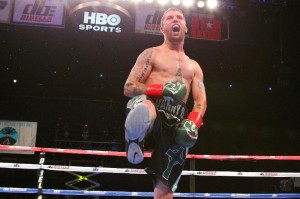 O'Connor will shed his traditional Clan O'Connor outfit for one specially designed by Rival Boxing Gear to honor victims of the recent Boston Marathon bombing. "I'm really excited to be Boston Strong," O'Connor said about dedicating his fight. "I'm honored and privileged to wear what Rival has made for me. The names of the Boston Marathon bombing victims will be on my trunks. I'll also be wearing the Boston Marathon logo and colors on my trunks, shoes, gloves….everything. This means a lot to me.
"It's not like I'm on a team playing 100 games, so, after this one fight, we're going to auction everything with all proceeds going to The One Fund. It's just my way of showing my appreciation for what these families have been through. We'll never forget. I'm from Boston and I've probably been at that spot (of the bombing at the finish line) a million times. Boston is tight-knit and this affected me and all Bostonians a lot. We're Boston Strong!"
The DiBella Entertainment and K2 Promotions-presented HBO triple-header, starting at 9:45 p.m. ET/PT, is headlined by WBA/IBO champion Gennady "GGG" Golovkin (26-0, 23 KOs) champion defending against Ireland's top-rated former world title challenger Matthew "Mack The Knife" Macklin (29-4, 20 KOs), live from MGM Grand Theater at Foxwoods ® Resort Casino in Mashantucket, Connecticut. Also airing on HBO is a 10-round co-feature pitting IBO super middleweight titlist Thomas "Tommy Gun" Oosthuizen (21-0-1, 13 KOs) against Brandon "Flawless" Gonzales (17-0, 10 KOs), while NABF super welterweight champion Willie "The Great" Nelson (20-1-1, 12 KOs) defends his title against Argentinian-invader Luciano Leonel "El Principito" Cuello (32-2, 16 KOs) in the 10-round HBO opener.
O'Connor has gone through a metamorphism, in and out of the ring, since suffering his lone professional loss on April 8, 2011, by eight-round decision to Gabriel Bracero. The popular O'Connor has won six in a row, four by knockout, after he started being trained by two-time world title challenger Ronnie Shields and managed by Kenny Casey, founder/front-man for the wildly popular Dropkick Murphys band out of Boston.
"I am a different person," O'Connor explained, regarding what's happened since his only loss. "I have a family now – my wife Diane and our two-year-old son Liam – and I've been sober for one and a half years and will remain this way. I have a completely different lifestyle now. They inspire me and today I appreciate even the smallest things. I'm blessed to be in the position I am in with Kenny, Coach Ronnie, and all of the others who've helped me. I strive to be great in boxing and as a person.
"I'm not fighting on HBO, but I hope to impress the people there on June 29. Maybe my next fight will be on television? I'm coming off an injury and itching to get back in the ring. I'm fighting a tough veteran in Munoz, who keeps coming forward with his in-your-face style. I'm ready for anybody after what I've been through. I feel so good now."