Seeking the best possible fights on the planet, former multiple world champion, Vic "Raging Bull" Darchinyan (37-4-1, 27 KOs) has finalized his negotiations to challenge Japan's undefeated WBC bantamweight titlist, Shinsuke Yamanaka (15-0-2, 11 KOs).
Promoter Gary Shaw stated, "Contracts have been signed, sealed and delivered.  The fight is finalized and will take place in Tokyo, Japan sometime in April.  Nothing makes me more proud than having a throwback fighter like Darchinyan, who will take risks and step in the ring with anyone, anywhere.  Yamanaka will be defending his belt in his native land so Vic's got to go in there and put it on him.  I believe Darchinyan's power punching style will lead him to victory."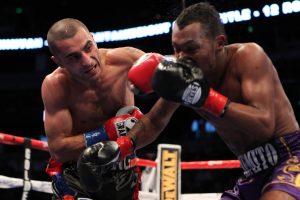 Darchinyan, an elite fighter in the flyweight and super flyweight divisions went on to say, "I'm extremely pleased with the WBC's decision to give me another title shot.  I've fought and defended the WBC title with honor and pride.  I love everything the WBC stands for because I believe they know I'm a true warrior and will leave everything in the ring when I go to battle.  My gratitude to José Sulaimán is everlasting because he's always been there for me throughout my career. Capturing a world championship in three divisions has been a goal of mine since I won my first belt.  I know I have what it takes to be champion at bantamweight."
Having traveled the globe from Australia to America and now Japan, Darchinyan must be recognized as one of boxing's most respected fighters.  A Hall of Fame career is fast approaching should he continue his march toward a treasured third world title in as many divisions.
Shaw went on to say, "There's no doubt about it, Vic is a future Hall of Famer.  In his era, he fought the best that was out there.  He's never been in a boring fight.  His style has always been crowd pleasing and you'll never see any quit in him, ever.   He'll get my vote for the Hall of Fame when that time comes.  Vic's got plenty of fight left in him and come April, you'll know why he's one of the best prize fighters of his time."
In a quest to capture a world championship on foreign land, Darchinyan has a difficult task in front of him.  Most fighters at the elite level would never take that gamble.
Shaw continued, "You have to give Darchinyan a ton of credit for taking this fight in Japan.  Not many fighters will travel overseas to fight for a world title.  He's given his heart and soul to this sport and I applaud the WBC for recognizing his soldier spirit."