Australian based boxing trainer, Johnny Lewis, has worked the corner of many world champions including Kostya Tszyu and Jeff Fenech.   Right now he is currently guiding the corner of Vic Darchinyan for his upcoming fight against Shinsuke Yamanaka. Here is what he had to say about training one of boxing's best little fighters.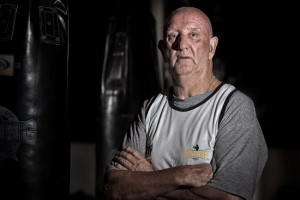 How has it been training Vic and how has the relationship blossomed between you two?
Johnny Lewis: When I met with Darchinyan's manager Elias Nassar we talked about training Vic.  Once we got in the gym I knew after an hour and a half that it would be a honor to train a fighter like Vic Darchinyan who is one of my all time favorites.
Do you feel your training techniques will bring out something different in him?
JL: I'm not really looking to do anything different.  Just want to make sure his options are situated in the corner.  I want to see what punches are open, and the stigma of him having to win by knockout is what I'll be looking for. I like to think that they're going to punch a little shorter, therefore land better shots and certainly have a higher work rate.  And try to make mistakes for the Japanese boy and capitalize on his mistakes.
What are your thoughts on Vic's opponent Shinsuke Yamanaka?
JL: He's a little bit taller and he certainly has a something on the left hand and he jabs well.  But at this level they have to have those skills or they wouldn't have got to the level their at.  At this level nothing is easy.  You can make an easy fight hard or a hard fight easy, and I think that is one of the attributes Vic has.  I think there's no reason why Vic can't sit this guy on the ground.
Do you feel Vic needs a knockout to win this fight?
JL: Sometimes when you fight someone in their hometown you have to knock them out.  I think can get him out of there, but I certainly like to think that if we won we would get the decision and that's what we got to do.
Anything in closing you want to say?
JL: I think if Vic wins this fight he should be regarded as great.  To put fighters in the realm of greatness people throw that around to loosely.  If Vic has a great performance this Friday, then in the ensuing two to three years he should sustain himself as one of the greatest little fighters of all time and I don't say that lightly.