Quick-fisted Colombian Daulis Prescott finally gets his chance for a crack at the world championship when he fights Jamaica's undefeated Nicholas Walters this Saturday, December 8. The two featherweights will battle it out as the 12-round main event for the vacant World Boxing Association title and in an effort to deliver a worthy message: "KO to drugs".
Daulis Prescott (26-1, 19 KOs), who is promoted by Thompson Boxing Promotions and Gary Shaw Productions, travels to Kingston, Jamaica's National Indoor Centre to challenge the hometown hero Nicholas Walters (21-0, 17 KOs).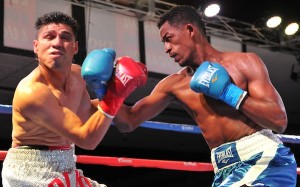 Prescott, 26, has been honing his craft in the Southern California boxing gyms against some of the toughest boxers in the Southland. The Colombian native is the younger brother of Breidis Prescott, and like his brother, packs a serious wallop.
Last August, Prescott easily out boxed Saul Morales in a six round featherweight bout in Corona, Calif. Morales had only lost once in a dozen fights but was unable to match the speed and skill of Prescott who won every round on all three judges score cards.
Walters, 26, was born and raised in Kingston, Jamaica, but has fought many times outside of his country; primarily in Panama. His last win took place in Panama City where he stopped Gustavo Sandoval in four rounds this past July.
Thompson Boxing Promotions like Prescott's chances and eagerly await the native of Barranquilla to return with the world title belt in hand. The Southern California promotion company recently had another world champion from Colombia named Yonnhy Perez who has since retired.
Is Prescott the next world champion from Colombia? With only four days to go before the true champion is unveiled, the countdown begins.
The WBA "KO Drugs" campaign transmits the message to the boxing world and to society as a whole. Included in the campaign is a 5K/10K race. Beyond KOing drugs the campaign aims to elevate moral values in our home," said Gilberto Jesus Mendoza, WBA excecutive vice president.
The KO Drugs Festival is held each year in different countries, normally with a boxing card. This year events took place in Peru and Venezuela and another is scheduled for Jamaica on December 8. The idea of the race emerged as a way to do something different, but with the same purpose: to help fight the scourge of drugs.