For much of his professional career David 'The Hayemaker' Haye has cut a solitary figure, training alone in London or North Cyprus under the watchful eye of coach Adam Booth. But now, in the lead-up to his September 28 clash with Tyson Fury, the hard-hitting heavyweight finds himself flanked by a number of gym-mates, all of whom train alongside him on a daily basis.
In addition to his heavyweight sparring partners, Haye currently shares his Vauxhall gymnasium with super-middleweight 'Saint' George Groves, middleweight Andy Lee and cruiserweight Deion Jumah, as well as Gary Logan-trained up-and-comers Liam Shinkwin and Joey Taylor. Alas, the gym, once cold and lonely, is now as busy as it has ever been.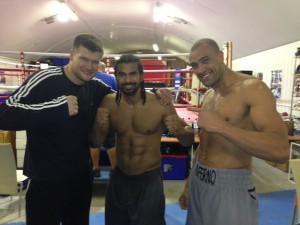 "It took some getting used to because I was so accustomed to being on my own and having empty space around me," said Haye. "But, in the end, I really liked the feeling of having so many young boxers working out alongside me.
"I'm 32 now – ten years older than a lot of them – and the sight of hungry fighters in the gym gets me even more motivated. If you see your gym-mates working hard and pushing through the pain barrier, it makes you want to do the same. It forces you to go one better than them. You want to beat the scores of these younger and lighter boxers.
"I can relate to all of the boxers in the gym. I can relate to the youngsters just starting out – especially Deion, who is beginning his career in the same division I did – and I can also relate to guys like Andy and George, who are both on the cusp of world titles. George, in particular, has been with us since he turned pro in 2008, and I've worked with him all the way. He's now preparing to win his first world title later this year."
Stablemates Lee and Jumah will both appear alongside Haye in Manchester on September 28, while Groves has to wait a little longer to challenge Carl Froch for his IBF and WBA world super-middleweight titles. But each of them will be on hand to support the leader of the pack in his quest to defeat Fury at the Phones 4U Arena.
"There's a great team spirit in the gym at the moment and we're all helping each other out in different ways," added Haye. "The guys who have helped me with sparring, Richard Towers and Alexander Dimitrenko, have both provided me with excellent work so far. Dimitrenko is an upright, long-range boxer who is technically correct, whereas Towers is your typical Ingle-fighter, awkward, tough and game. They are a good combination and both are pushing me hard.
"We've also got a couple of big punchers coming over very soon and they will help take my preparation to that next level. Right now I couldn't be happier with the way it's all going."