David Haye has a fight date of June 29th at the Manchester Arena, a plan for making a go at Vitali Klitschko, but no opponents as of yet. The plan as outlined by Haye is to make two fights, and then corner Vitali Klitschko with a choice of either giving Haye a shot at his WBC title or bowing out of boxing with ducking Haye as his last act. It's an ambitious scheme, and therefore a classic example of Haye's braggadocio. Yet that vacant fight date is still out there, and the question stands: who will Haye's next opponent be?
The Klitschko Angle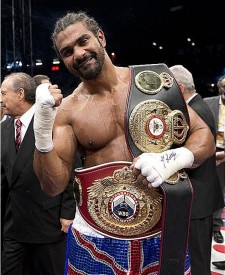 One thing is for sure: David Haye won't be fighting anyone who might get him closer to Dr. Ironfist in June. The WBC #1 and #2 contenders, Chris Arreola and Bermane Stiverne, are already duking it out over the mandatory challenger status that Haye might crave.
Haye is ranked #6, and all the guys whom he might fight to claim the #1 slot after Arreola and Stiverne move out of the way — Tyson Fury, Johnathon Banks, and Magomed Abdulsalmov — have dance dates either in April or June. For now, the ladder to Vitali Klitschko and anyone who might help Haye climb it are closed off.
Bagging Povetkin's Belt
David Haye only had to declare his official comeback to receive instant #1 contender's status from the WBA, and although he has not been declared mandatory challenger yet, that is surely only a matter of time. Alexander Povetkin is only the fake WBA heavyweight champion, as the Super (real) belt adorns the waist of Haye-conqueror Wladimir Klitschko. Yet Haye has said he wants his June fight night to be a title fight, and Povetkin is the only world champion available to him, fake or otherwise.
But Povetkin might not want to play ball, and that means Haye might need the WBA to set-up a box-off to make him the mandatory challenger, and thereby force Povetkin into the ring at a later date. The candidates for that role would be #2 contender Luis Ortiz, a 19-0 Cuban southpaw; and Ruslan Chagaev, a former WBA champion. Ortiz last fought at the end of last year, and Chagaev last fought in March, so both are available and have nothing better on the horizon.
David Haye's Next Opponent
I'm sure that David Haye would like to get the fake version of his black WBA belt back ASAP, and if Alexander Povetkin wants to risk facing Haye to claim a big payday, that might happen. If it doesn't happen, Haye will probably seek to corner Povetkin by arranging an eliminator fight for the WBA title challenge, either against Luis Ortiz or Ruslan Chagaev. Chagaev is the bigger and more marketable name, and will be viewed as a more legitimate opponent, so consider him the leader in the clubhouse if Povetkin looks elsewhere.
Comments
comments