Fight Analysis – Haye vs. Fury:
In late September David Haye and Tyson Fury shall meet one another at the M.E.N Arena in Manchester, England. Their July press conference only heightened the expectations, and this heavyweight clash will potentially be the year's greatest commercial match-up to hit British shores. The fight will also act as a springboard for the victor, leading to a fight with one of modern boxing's brotherly behemoths; Wladimir and Vitali Klitschko.
Here, we will assess each combatant physically, mentally and technically, providing a tactical analysis of one of the more significant British heavyweight fights of recent times.
Physical Make-Up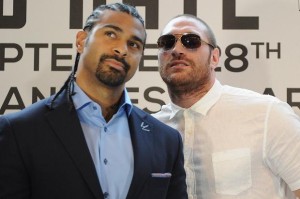 The marked contrast upon viewing both Haye and Fury is the sheer size differential between the two. With chest puffed out Fury stands tall at 6 ft 9, while Haye seems short in comparison at 6 ft 3. As a result, Fury is the naturally stronger man. He combines this strength with another natural gift, the gift of reach, which at 85 inches is 7 inches longer than that of Haye.
Nonetheless, Haye – a former cruiserweight, is the faster and more explosive puncher. A titleholder at two weights, he has carried his hard punching up to heavyweight where he has obtained knockout wins over John Ruiz and Dereck Chisora. Fury has clubbing power, but he is less likely to lay waste to a fellow heavyweight's senses with one punch in the manner that Haye is able to.
Both have proven themselves over the twelve round period and so endurance is not an issue for either; Haye having learned his lessons following a stoppage loss to Carl Thompson nearly a decade ago a result of his running out of gas. Both have also shown solid but not insurmountable ability to take punishment. Haye took what was meted out to him by Wladimir Klitschko and has only suffered wobbles, not legitimate knockdowns, as a heavyweight. Fury, however, has been put down hard on numerous occasions but with his undefeated record intact clearly has the instinct for quick recovery.
Mental Make-Up
In his last fight with Steve Cunningham, Fury showed credible amounts of heart and courage to withstand a heavy knockdown as well as occasional barrages to gradually wilt his equally gutsy foe. It was this fight however, that also showed a side to Fury that has at times revealed itself through online social networks as well as fights – he can get emotional. In the heat of battle some would say Fury trusts his ability and inner strength, others would argue he gets carried away by the moment.
Either way, regardless of its success against Cunningham, the propensity to become careless amidst grueling toe to toe action is naive at best, and extremely dangerous if you are facing David Haye. With this his biggest step up to date by far, Fury would be best advised to keep a poker face and box with his head rather than his heart.
Haye on the other hand has acquired plenty of experience of big time fights. He thus understands both the hype that surrounds them and has priceless knowledge of how to control himself once in the ring in front of a vast crowd. He does not have a tendency to become overly excited by the occasion, and these days seems more mature standing next to his giddy young counterpart.
There is, however, a lot more on the line for Haye. For the first time in his career, he is clearly the veteran in this fight. Unlike Fury, Haye's undefeated record is long gone. He has already challenged for world titles and has failed in his initial bid to establish himself as the undisputed heavyweight champion. Defeat here would be catastrophic for Haye's future ambitions and would probably spell the end to the possibility of another Haye – Klitschko bout.
Technical Make-Up
Snippets of early barbs from the pair have offered a glimpse as to how each plans to approach the fight. Fury has mentioned the idea of taking Haye into the trenches, in other words making the bout as ugly and difficult as possible for his rival. Haye retorted by stating that it is hard to fight in the trenches "when you're getting picked off by a sniper". This suggests Haye intends to sit back and pick Fury off as he comes forward. Both approaches hark back to the way each fought their last respective fights. Fury attacked Steve Cunningham with reckless abandon, eventually trapping him against the ropes and knocking him out, Haye unloaded on Dereck Chisora from the backfoot.
Fury, contrary to some people's opinion, does have boxing ability. He showcased this in his unanimous points win over Kevin Johnson last year. He stuck behind the jab, drawing boos from the crowd, and was not lured into a brawl. In this sense it is not wild to suggest Fury has more stylistic strings to his bow, with his ability to both box and brawl. Fury does not solely rely on his size either. In several fights, perhaps most evidently against Chisora, he showed excellent combination punching. Hence, the oft-perceived technical gap between Fury and Haye is not as wide as many believe it to be.
Haye vs. Fury Prediction
Fury will likely begin the fight with caution, respectfully jabbing at Haye, who will circle and hold fire whilst awaiting an opening. The fight may not catch fire early on as Fury racks up the points with his rangy boxing and control of distance, but when he is lulled onto a powerful straight right hand or two he will begin to see red. Fury may have to take a knee as Haye rips him with fast single shots, but he will gradually gain control of his senses and take the fight to Haye as promised in the pre-fight build up.
This will make for a final four rounds that the crowd have been waiting for, with Haye more confident in his own aggression and thus more open to Fury's punches in return. Both will tire and the fight will be reduced to will rather than skill as the final bell approaches. Fury will outwork Haye down this stretch to secure a close, possibly controversial points decision.
Outcome: Tyson Fury W12 David Haye