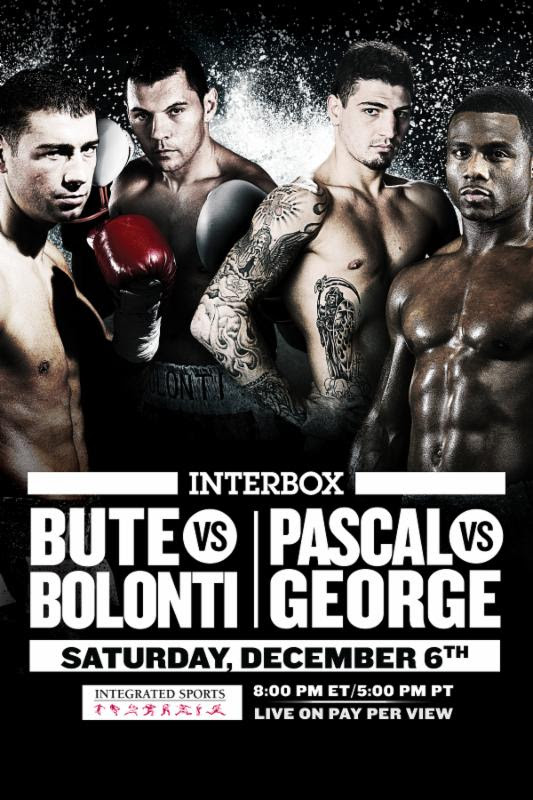 InterBox is proud to confirm that David Lemieux's(32-2-0, 20 KO) December 6thbout against Gabriel Rosado (21-8-0, 13 KO) at Barclay's Center in Brooklyn, NY, will be presented on big screen at the Montreal Bell Centre for all fans attending. The card itself is a world-class double feature featuring Lucian Bute (31-2-0, 24 KO) and Jean Pascal (29-2-1, 17 KO) in separate bouts.
Fans at the Bell Centre will witness three huge names in boxing in very meaningful fights to round up the last three bouts of the night : Jean Pascal vs. Donovan George (26-4-2, 22 KO.), Lucian Bute vs. Roberto Bolonti (35-3-0, 24 K.-O.) and Lemieux vs. Rosado.
"We have a former IBF champion in Lucian, a former WBC champion and Ring champion in Pascal and one of the most exciting middleweights in the World in David Lemieux; all on the same night. Events such as this is the platform we will be working with in 2015. It's the type of card the fans deserve and get excited to see," states InterBox president Mr. Jean Bedard.
Bute Training in the Philippines
It's under the watchful eye of 2013 Trainer of the Year Freddy Roach, and to several division World champion Manny Pacquiao (56-5-2, 38 KO) that Lucian is refining his tools ahead of his December 6th bout. Lucian may be half way around the World in the Philippines, but he quickly got comfortable with such prestigious company.
"It is an honor to train with these two legends. There are so many good people here who stop by and watch us. It feels great. It's like I am training for the public every day!" states Lucian Bute. Lucian will stay in Manny's camp until Manny and Freddy leave for Manny's November 22nd bout vs. Chris Algieri (20-0-0, 8 KO) in China. Lucian will be back in Montreal at the end of November.
Pascal Wants Stevenson
Jean Pascal, WBC Diamond and NABF 175 lb title holder, is in excellent position. As he stated to the media, Jean is currently the mandatory contender to Adonis Stevenson's (24-1-0, 20 KO) WBC title and will meticulously study all fight possibilities during the next few months. Pascal's coach, Marc Ramsay, will be accompanying David Lemieux to Brooklyn to work his corner on December 6th.
Pascal, who immediately agreed for Ramsay to help David, will have Russ Anber and Roy Jones Junior in his corner vs. Donovan George. Pascal also decided to set up camp in Montreal for a rare time, instead of at Big Bear in California.
Important to note that the Lemieux vs. Rosado bout is only available to Bell Centre fans. The rest of the December 6th card, including Pascal and Bute, will be available on PPV on Indigo and Bell in French and English, as well as via Rogers, Shaw and Sask-Tel in English language only.