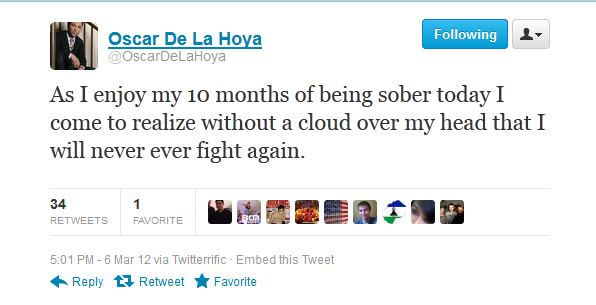 A few days ago, Oscar De La Hoya made an announcement about an impending announcement, one which he promised would shake up the boxing industry. His pre-announcement left a lot of people guessing and wondering what might be in store. Well, as of now, only one announcement has been made, and if you're like nearly everyone else – it's not the one you were waiting for.
Here's what De La Hoya had to say for himself today on Twitter: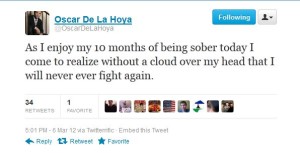 "As I enjoy 10 months of being sober today I come to realize without a cloud over my head that I will never ever fight again."
First, that's great news that De La Hoya has been sober for 10 months, it's good to hear he has been working hard on getting his personal life together.
Second, what in the hell kind of announcement is that to make? He was 3-4 in his last 7 fights, and since Manny Pacquiao went to work on him, he hasn't been in the ring for over three years. News flash: De La Hoya not fighting again isn't an announcement, and it's certainly not any announcement that shakes up the boxing industry.
It does rule out the possibility of any comebacks, and any guessing games on who one last hurrah fight could be against – Julio Cesar Chavez Jr, Saul Alvarez, etc. However, besides that, it doesn't do much for anybody.
I have to believe that something else is still in the works, and the "real" announcement will be coming later tonight, or sometime soon. But as of now, this is all that we'll get.
Stay tuned and we'll post any further updates.