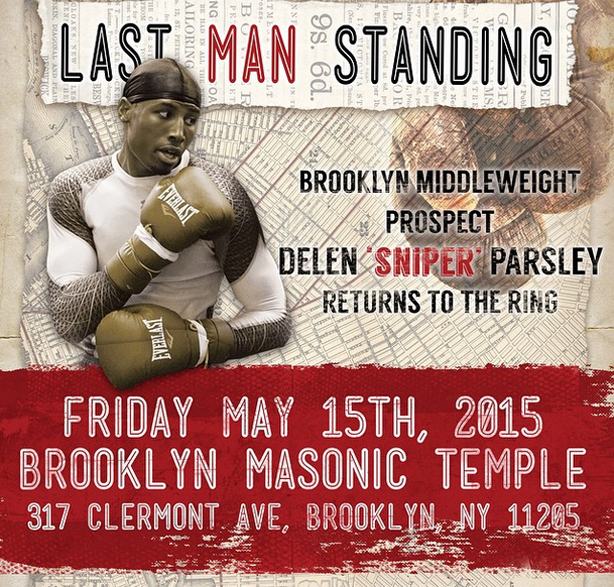 Ronson Frank's Uprising Promotions will be returning to the Brooklyn Masonic Temple on Friday, May 15th, with the card featuring Brooklyn native Delen "Sniper" Parsley (11-1, 3 KOs) against Bronx native Troy Artis. The bout ends a nearly year layoff for the middleweight, who brings an imposing 6-2 frame into the ring.
"I'm super excited. There is nothing like fighting in Brooklyn in front of my hometown fans," Parsley said of the match-up. "It is nice to finally be coming home where I am comfortable and people don't have to travel too far to come support me. I have always wanted to fight in the Barclays because it's the Mecca of Brooklyn, but I'll just have to make the Masonic Temple my Barclays come May 15."
In his last outing, Parsley handed Marcus Beckford his first career loss in May of 2014. A professional of nearly six years, Parsley has impressive wins over battle-tested Ibahiem King and then-unbeaten Boyd Melson on his resume.
"On May 15, people can expect me to be more dominant," Parsley continued. "A lot of my fights, I have started slow and a little cautious because I was too caught up on 'I can't afford to take an L. What if I lose?' But now, I have already experienced that. I have experienced what a loss feels like, and I have also experienced what coming back feels like. Now I can just go in there and be the best me I can be. I can be more physical, more skillful and get straight to the point. I am in great shape right now, and I am ready to go. From round one to the last bell if it goes the distance, I'm just going to go out there and do what I do best. And that's puts hands on people."
Also set for action on May 15th will be fan favorite super featherweight Gary "Kid" Stark Jr. (23-3, 8 KOs), who is ending a nearly five-year layoff on the card against Jose Valderama of Puerto Rico. Stark, who started his career with 18 consecutive wins, suffered chronic shoulder problems that eventually sidelined him in 2010, and the long road back to the boxing ring will now finally end on May 15th. Prior to turning professional, Stark created a huge buzz for himself after becoming a three-time New York City Golden Gloves Champion and reaching the Olympic Trials.
Queens native Devaun Lee (3-1, 1 KO) also returns on May 15th, facing Haitian middleweight Deferson LeGrand (3-2, 2 KOs). A super welterweight scrap between Villi Bello (1-1) and Jonathan Jeter is another contest currently on the fight sheet as well.
A couple of intriguing women's bouts are on the docket to go down on this card. Brooklyn featherweight Ronica Jeffrey (13-1, 1 KO) will take on Crystal Hoy (5-7-4, 2 KOs), while a rematch from Uprising Promotions' last card in February is on tap when Susan Reno meets Paola Ortiz for a second time. When the two fought previously, the fight was declared a majority draw.
Other fighters slated to compete on the May 15th card include two hard-hitting unbeatens in super bantamweight Marcos Forestal (2-0, 2 KOs), who made his pro debut on the last Uprising Promotions show in February, and Neslan Machado (9-0, 7 KOs). Additionally, popular Irish featherweight Allan Phelan (6-2-1, 4 KOs) is slated for action on the card.